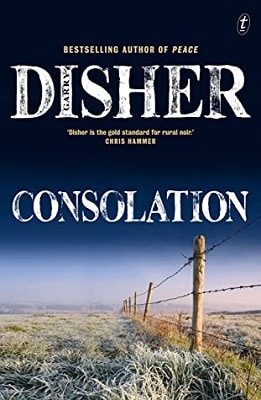 In this third book in the Paul Hirschhausen series, the police constable deals with cases ranging from underwear theft to men on the run. The book works fine as a standalone.
When Constable Paul Hirschhausen (Hirsch) is assigned to maintain law and order in the South Australian town of Tiverton, he makes it his business to learn about the area. Hirsch spends months walking the streets, driving the roads, meeting the citizens, noting residents who need help now and again, identifying petty criminals who bear watching, and so on. Hirsch believes the job of a country policeman is to be prepared, and to be friend and counselor—as well as law enforcement officer—to everyone.
Hirsch's patch isn't a hotbed of criminal activity, but the constable still gets a steady stream of calls that require a police response. We follow Hirsch as he goes about his day-to-day activities protecting people, maintaining peace, and capturing wrongdoers.
Hirsch's first stop is the home of an elderly woman whose underwear was "nicked" from her clothesline. It seems a snowdropper has been stealing lingerie from senior ladies all over the region. Hirsch decides to mark the undies of older women, to try to nab the perpetrator.
A teacher called Clara Ogilvie, who monitors home-schooled children, fears an eleven-year-old girl named Lydia Jarmyn is being neglected. Hirsch checks into the allegations and makes a shocking discovery.
A primary school administrator phones to say a man called Leon Ayliffe is in the principal's office making a disturbance. When Hirsch arrives at the school he learns that Leon, a local sheep farmer, has an array of grievances: a stock agent named Adrian Quinlan owes Leon money; Leon couldn't pay his daughter Chloe's school fees; and the principal embarrassed Chloe as a result. Hirsch settles Leon down and agrees to look into the allegations against Quinlan, which opens a whole other kettle of fish.
An elderly woman named Maggie Groote is approached by silver-tongued Irishmen who arrange to fix her (perfectly fine) roof. This scam leads to even bigger trouble when Maggie goes to the bank to get money for the crooks, and is told her account has been drained. Hirsch investigates the Irish swindlers as well as Maggie's missing money.
In Hirsch's private life he spends time with his teacher girlfriend Wendy and her daughter Katie. Everything is going well until Wendy's colleague, Clara Ogilvie, develops a crush on Hirsch and starts texting, calling, and stalking him. Hirsch doesn't know how to handle the situation and it affects his private and professional life.
All this leads to an explosive and exciting climax.
Hirsch's perambulations give us a palpable sense of the geography and atmosphere of rugged South Australia. We also get a feel for the arctic winter. I could almost feel the frostbite in my own toes as Hirsch worked in his freezing police station with a useless little bar heater.
The bottom line: This is an engaging novel that depicts the work of a rural police officer in a gripping and realistic way.
A young girl goes missing and the trail leads to a remorseless killer
read more