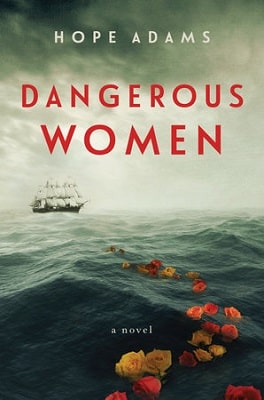 First time author, Hope Adams, has a real winner in her debut historical mystery, Dangerous Women. This book is set in 1841 and follows the fates of 180 women who are being transported on the boat, Rajah, from jails in England to Van Diemen's Land—present day Tasmania.
The trip takes 15 weeks and is told through the eyes of just a few main characters, who recount the trip, as well as a stabbing assault that takes place upon the boat during this crossing. The book begins with the assault and then chapters go back and forth (titled conveniently as Then or Now), telling tales on how and why some of the ladies got to be part of the prisoner transport, as well as trying to solve the stabbing before arriving at Hobart.
What ties so much of this together is a sewing group that Matron Kezia Hayter establishes from the beginning. The group is sewing a quilt to be presented to the Governor of Van Diemen's Land upon their arrival, and it is through the vantage of these women that the story unfolds. None who are transported are supposed to have been convicted of murder, and yet one of these ladies has slipped through onto the Rajah.
In addition to the ladies, the book also follows Matron Hayter, the ship's captain Charles Ferguson, along with the ship's physician and priest. These male characters come to the fore during the investigation of the stabbing. Was the attacker one of the ladies of the sewing group, one of the other convicts, or possibly one of the sailors?
First and foremost, this is a compelling mystery, all wrapped around a group of female convicts headed to an unknown future in a land they know nothing about. How could someone get ahold of a knife? What drove that person to the attack? And how can such an incident be solved when every woman on the boat is a convict?
The bottom line: Nerves fray, alliances form, and love blooms in this fast paced, well written novel. This is a great page-turner!
Thanks to NetGalley and Berkley Publishing Group for providing me with a free Advance copy of this book in return for an honest review.
More Historical Mysteries
A cook delves into Victorian London's high society to catch a killer
read more