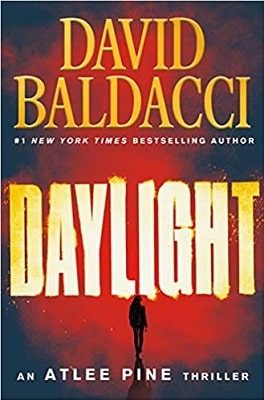 reviewed by Jannelies Smit
In this third book in the Atlee Pine series, FBI agent Pine and John Puller have to work together to achieve their goal. Their stories are separate but intertwined. And they will both have to walk the tightrope of conspiracy if they're to learn the truth.
Time is running out for Pine to find her disappeared twin sister, Mercy.
Pine and her assistant, Carol Bloom, make their way to the home of Teddy Vincenzo, who Pine believes is guilty of the abduction. There, she learns that Teddy is in prison and his grandson Tommy has taken over the house for his own criminal purposes. Also there is military investigator, John Puller, at the point of arresting Tommy; an operation that is botched when Pine inadvertently allows Tommy escape.
From that moment on, Pine and Puller have to work together to tie every shred of information together to get hold of Tommy, who not only shines light on Pine's search for the truth, but also might lead them to the people behind a global conspiracy—a conspiracy that needs to be unravelled before it is too late. In the few short days their investigation takes them on a twisted path with unexpected turns, and some self-reflection thrown in.
Baldacci does an excellent job in getting Puller and Pine together in this story, both because they're well-matched characters, and also because of the ensuing action. Adding Carol Blum as Pine's assistant was also a brilliant idea because she brings some calm and reassurance – not to mention humor! However, readers may find, as I did, that the elements of global conspiracy were a bit far-fetched.
Also nice is that Daylight can be read as a standalone. If the reader has never read anything with one of them as the main character, no worries. You will get to know them quickly.
She confronts the power structures ingrained in the classroom
read more