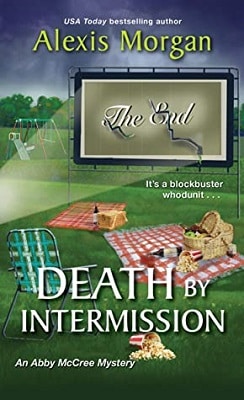 Alexis Morgan returns to Snowberry Creek for her 4th installment of the Abby McCree mysteries, and once again proves she is not your average cozy mystery writer. As with all her cozies, there's a good and believable plot involving murder. Here, it's the death of a spectator at the final movies-in-the-park night in Snowberry Creek.
In Death By Intermission, Abby's mother, Phoebe, is visiting from Seattle. In a short time, Phoebe has found a boyfriend, Owen, who Abby immediate dislikes. From the first, Phoebe and her beaux are "canoodling" during the movie, which brings the first hint of Abby's aversion. It all goes downhill from there.
Abby and her mother go to finish the cleanup of the park area and discover the dead body, sitting in a chair away from where the crowd had sat during the movie. The police are called in and, before you know it, Owen is the main suspect. 
Phoebe takes an immediate dislike to the local police chief, lashing out like a petulant love-sick teenager. But the mother-daughter tension helps move the plot along, and explains some of the issues between the two ladies.
While the police go about solving the crime, Abby and her mother continue sparring almost every time they are together and because of this Abby never really gets into solving the crime. This is one of the authors strong suits since, unlike so many cozies, her main character is not smarter nor more intuitive than the police, nor does she actively go about trying to insert herself into the investigation. And thus, developments happen off-page that move this story along.
Owen sits in jail and it is obvious to all that he is withholding certain facts about the night of the murder. Despite Phoebe being allowed to visit and try to talk some sense into him he still refuses to assist the police. Did Owen and the decedent know each other?
The Bottom Line: There is a lot here too keep Morgan's dedicated fans clamoring for more books in this series.
The Evolution of the Cozy Mystery Genre
read more