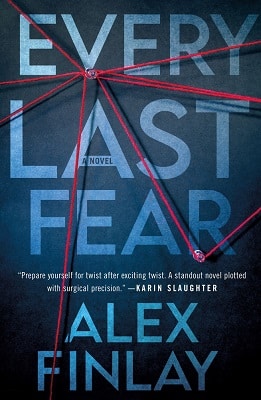 In every good book, bad things happen to characters you care about. In Every Last Fear, the very worst of these things happens right away—in the first sentence, no less. Talk about spoilers. Knowing how it all ends, is it possible to grow attached to the family at the heart of this psychological thriller? To champion their cause and hope for the best while already resigned to their fate?
It's not an easy task to pull off, but Alex Finlay does it with page-turning suspense and genuine empathy for the characters at the center of this debut novel. There's Matt Pine, a likeable kid from a family that can't shake an unfortunate past. There's his brother, Danny, the subject of a true-crime documentary that questions whether or not he actually murdered his high school girlfriend, for which he's serving a life sentence. There's the obsessive father hell-bent on proving his son's innocence; the mother with a guilty conscience; the teenage brainiac sister who will put the puzzle pieces together one by one.
The ensemble cast works well, each voice distinct and relatable with a perspective that moves the story along. But perhaps the most interesting character is the one who's not a member of the Pine family. FBI Agent Sarah Keller is the breakout star in Every Last Fear. While she's no-nonsense at work, she's still learning how to be bold, take charge, and play the game when politics come into play. Some of the most enjoyable scenes are the interactions between Sarah and her supportive, funny, and casually out-of-shape husband, who's also the stay-at-home dad of their twins. It would be easy to see an entire series based on her budding badassery. That may or may not be where Finlay is going with this, but Agent Keller is almost too good a character to leave on the table.
Agent Keller becomes Matt's handler when the FBI gets involved in his family's case. Matt and Sarah are solid anchors as the story moves from bustling Greenwich Village to bureaucratic Washington, D.C., to a tourist town in Mexico that's off the beaten path to the Pine's quiet, midwestern hometown. Throughout, the storytelling is rich with detail and knowledge. Whether it's negotiating for assistance from the State Department or exploring deep fake technology in a high schooler's garage, Finlay writes with expertise and authority that makes you wonder who, exactly, is behind that pen name.
The plot itself is more complex than many standard crime mystery novels, but easy enough to follow with breadcrumbs that will intrigue the experienced reader. Any story that has this much buildup and character development runs the risk of blowing it in the final act. But with Every Last Fear, the twists are satisfying and the motives make sense. This is impressive storytelling, especially from a debut author.
The bottom line: Every Last Fear is an expertly written debut with more than enough potential to kick off a solid detective series.
Editor's note: Every Last Fear was selected as a best thriller book of 2021.
He learns quickly that crime is not black and white
read more