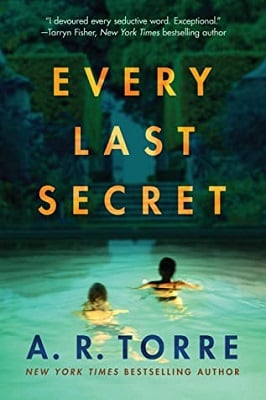 A chilling domestic thriller about power and deception, A. R. Torre's latest novel, Every Last Secret, has all the elements to keep the reader enthralled, with just enough darkness to provide needed twists for a complex plot. Torre is sure to lure many in with her writing.
Cat Winthorpe's home is immaculate, and she's made a name for herself, alongside her productive and successful husband, William. When the Ryders purchase the home next door, Cat greets them with open arms, hoping that her neighbors will be just as driven. Little does Cat know what awaits.
Neena Ryder does not fit the Winthorpe mold, and doesn't care. She's been hired by William and has a job to do, but her skills as a life coach are the least of her concerns. Her husband, Matt, has come to bore her and Neena seeks a new challenge. The move was her way of inching in the right direction, though it also causes Neena to see the major piece she is missing in her life. While he may be her boss at work, Neena is eager to get better acquainted with William and push anyone who serves as an obstacle out of her way, including Cat.
Cat and Neena begin a friendship that soon blossoms. The admiration that Neena has begins to grow and she must make her move before it's too late. Though Cat, for her part, is not clueless. No one will steal William away from her without a fight, that's for sure. Danger lurks behind every corner and the secrets pile up. It will be Cat or Neena in the end, with William as the prize. The only thing left to determine is which of the two wants him more… and who is willing to make the sacrifice to show him.
While this is my first A.R. Torre novel, I can see the allure of her work. It builds on some fairly uncomplicated plot development, but turns dark and addictive as the chapters progress. While the reader may feel they have entered a bucolic neighborhood, they soon discover that beneath the Botox and country club lifestyle, fake friendships and cutthroat antics are the norm.
Told from the dual perspectives of Neena and Cat, the story offers two protagonists. While these women come from completely different backgrounds, they have one thing in common: their burning desire for William. Torre crafts her characters effectively and provides detailed backstories for them both in the narrative, as well as a slow development as the plot builds. While they appear to be friends on the surface, there is no doubt that Cat and Neena have no love lost between them.
This tense friendship would not work without some strong supporting characters. Torre does well to provide those, though these individuals seem only present to help stir up the Cat and Neena feud. In this instance, it works effectively to have some wallflowers present throughout. Torre shows that she's capable of developing the needed support to show how her protagonists click, and keeps the reader entertained between scenes of tenseness and evil plotting.
Torre's writing is strong, and she keeps the reader curious as the story progresses. The fight develops slowly, yet never loses its momentum, which provides the reader with a strong connection to the narrative. Succinct and alternating chapters allow the reader to see both women's perspectives, inching forward effectively to the final reveal: a battle for the attention and affection of William, a man who really is not worth their time. While not your typical thriller, it works well and should keep the reader wanting more as they witness what two women would be willing to do to get what they want.
Kudos, Madam Torre, for introducing me to your work. I am eager to see if all the praise some of your other novels have received are worth it. This piece leads me to believe they might just be!
More Domestic Thriller Reviews
The deepest and darkest secrets begin to unravel
read more