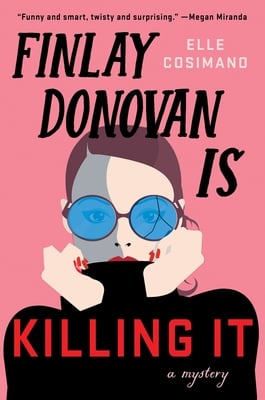 Finlay Donovan Is Killing It
What would a recently single mother, with a semi-successful career as a romance author do if she were offered $50,000 to kill someone? And what would she do if she succeeded?
Finlay Donovan is down on her luck. Her ex-husband cheated and left, she's way past the deadline for her new book, and the children's nanny, Vero, hasn't shown up on a very important morning when Finlay needs to go meet her agent at a fancy brunch spot. After managing the childcare situation, Finlay ends up meeting her agent at a local Panera. She's donned in a blonde wig scarf, humongous sunglasses, and dark red lipstick that goes beyond her lips. Why the disguise? She's been banned from this particular Panera for reasons the reader will enjoy.
Finlay's agent is not happy with her excuse of writer's block. While they go back and forth, discussing possible scenarios, a customer happens to overhear. She mistakenly believes Finlay is a hit woman, and leaves her a note with a name and a figure of $50K. Finlay is baffled. There is no way she would ever consider that. Would she?
She decides to investigate the "hit" out of morbid curiosity. One thing leads to another, and she finds herself with a rich man passed out in the back of her minivan, the untimely return of her nanny, and $50,000 in cold hard cash.
What did Finlay do to get herself into this predicament? How is it that she is now in danger with the mob? Will she be able to charm and wiggle her way out of all the peril headed her way? You'll have to read it to find out.
This is the promising adult fiction debut from Elle Cosimano, who previously wrote YA novels. It's a comedic mystery that will make you laugh out loud and cause extreme anxiety as Finlay gets caught up in one ridiculously dangerous situation after the next.
Reminiscent of Janet Evanovich's Stephanie Plum character, but with a fresh feeling. Finlay is a frazzled (yet smart) woman who may not always make the right choices, but she's doing them for what she believes are the right reasons. The ending packs a wallop and leaves us at a truly surprising cliffhanger, so I am already anticipating book #2 in what I hope will be a long-running mystery series.
Thank you to St. Martin's Press and NetGalley for an ARC in exchange for an honest review.
Found beside her daughter's grave, her lips sealed together with wax
read more