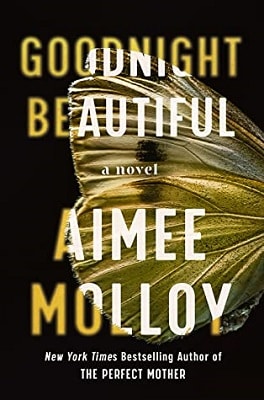 reviewed by Sandra Hoover
Goodnight Beautiful is a twisted psychological thriller that left this reader lost in a room of smoke and mirrors trying to figure out who was authentic and who was wearing a disguise. I quickly learned that Author Aimee Molloy is an expert at misdirection—one who excels at shattering gender norms and readers expectations. And one who loves to manipulate characters and readers with clever plot lines, unreliable narrators, and shocking twists. Be prepared to be thoroughly entertained while flipping pages in an effort to figure this one out.
Psychologist Sam Statler and his new wife Annie Potter have moved to Sam's home town on the outskirts of New York to be near Sam's ailing mother. When the landlord of an old Victorian house offers Sam space for his office, Sam knows he's found the perfect spot. What Sam doesn't realize is that someone can hear every word of his counseling sessions, every dirty little town secret, through the vent in the ceiling. With the paint still wet on his sign, Sam starts seeing patients—many of whom are old flames from Sam's wild, single days. But Sam only has eyes for Annie and hates having to keep secrets from her. Until a mysterious French woman in a mini cooper walks in, clearly wanting more than a counseling session. Any man would be tempted, right? When she calls asking for an emergency home visit, Sam's loyalties are tested. It's late, a dangerous storm is raging and he should be headed home to his wife. He rushes out of his office and… disappears. Where is Sam? 
That's all I'll share about this cleverly plotted, compelling thriller. Avoid spoilers and step in blind to get the full effect of Mollory's cunning writing style. Whether you read or listen to this story, you're sure to be surprised, even shocked, at least a time or two before the ending as this author deftly guides both characters and readers through twists and turns, spinning them around in circles then leaving them dizzy and questioning their own sanity. Goodnight Beautiful unfolds via three story narrators who are all highly unreliable and almost impossible to figure out. The audio is especially effective because these voices are portrayed by different narrators lending an air of authenticity and mystery to this book. I will say I struggled just a bit in the beginning with the voice of one of the main narrators, but soon realized it's the author's intent—part of the misdirection and illusion. Once I settled in, I tumbled head over heels into a story that rendered me totally confused at times and yet highly motivated to seek answers. 
Goodnight Beautiful is intense, mysterious, and a bit creepy. The author's clever narrative and dubious characters led me through a world of mind games where I soon realized someone else was holding the winning hand, and readers are charged with figuring out who and why? I can only say "Well played, Aimee Mollory." I highly recommend Goodnight Beautiful (book and audio) to fans of mysteries, domestic suspense and thrillers. It's one wild, hallucinating ride!
More Psychological Thrillers