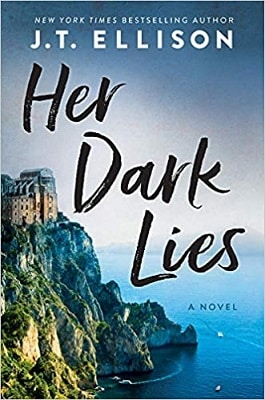 In Her Dark Lies, Claire is a young woman who has finally found happiness. She meets Jack, the man of her dreams, when he buys one of her paintings. After a whirlwind romance, and a particularly traumatic event at Claire's home in Nashville, they're on their way to a beautiful island off the Italian coast to get married. 
The beautiful villa they are staying in is owned by Jack's family. They arrive ahead of the guests (it is to be an intimate ceremony with 30 of their closest friends and family), but things don't start off on the right foot.
As soon as they reach the island, skeletal remains are found in the ground. Initially, nobody is sure who the bones belong to or how long they have been buried. Still, Claire starts to get the lay of the land, which isn't easy to do on a sprawling estate with a villa, labyrinth, a cliff, a cave, and other easy-to-get-lost-in locations. As she meets with lawyers to sign a prenup, then catches up with Jack's family, things take a sinister turn, well beyond the recently found pile of bones.
Claire finds a mysteriously written message in Jack's belongings. Then, malicious texts fly around. As thing progress from bad to worse, it soon becomes obvious to Claire that there's a lot she doesn't know about the man she is about to marry, or about his family. In turn, there are a few things the family don't know about her either.
Things come to a head when a violent storm pounces on the island, leaving the guests and family without a way off the land, as Claire starts wondering about Jack's first wife, and her mysterious death.
This is an atmospheric and intense psychological thriller, with Ellison's beautiful writing making me feel as if I was on the island with the rest of the characters. Ellison also has a knack for making us care about her lead characters, and leaving us slightly unbalanced when it comes to who we should trust and who we shouldn't.
The story starts out on the slower side, and has many descriptions of the villa and the surrounding landscape, but once it takes off you will be hooked! There are many surprises in store as the story races to an exciting and deadly conclusion.
Sincere thank you to Mira/HarperCollins for sending a physical ARC in exchange for an honest review. This thrilling tale will be available March 9th, 2021.
More Psychological Thrillers
The deepest and darkest secrets begin to unravel
read more