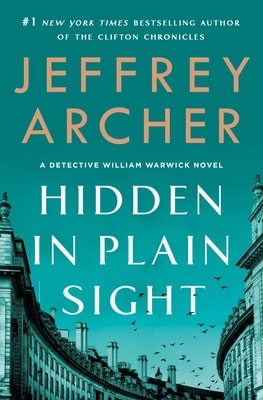 Jeffrey Archer returns with another stellar novel in the William Warwick series. Taking readers back to the glory days of the 1980s, this police procedural is sure to impress many, particularly those who have a great affinity for Archer's Clifton Chronicles.
William Warwick has been given a rare treat at work, a long overdue promotion to Detective Sergeant. However, with this comes a move to the Major Drug Squad for an intense case that could bring much notoriety. Large amounts of heroin have made its way into London, a drug that has crippled 1986 England and sent waves throughout the Metropolitan Police.
Warwick's promotion brings a new member to the team, DC Paul Adaja, whose interest in getting things done helps pave the way to a successful addition to the team. Working through the handful of confidential informants (CIs) at their disposal, Warwick and the team learn that there is a weekly meeting that could garner a great deal of potent arrests, though the location of the Viper remains a well-guarded secret. Through a series of mad car chases, working off crumbs of CI intel, Warwick is none the wiser when it comes to landing this big fish, but refuses to give up too swiftly.
On a personal note, Warwick and his fiancée, Beth, are eager to share their nuptials, planning a small ceremony that turns out to be anything but calm. Well-known criminal mastermind, Malcolm Faulkner, makes his presence known and tries to destroy any credibility Warwick might have, though the power of love appears to prevail.
When news comes that Faulkner is about to receive a shipment of drugs that could end him away for the foreseeable future, it's all hands on deck to make the bust. Faulkner cries foul and does anything he can to keep the changes from sticking, though the prosecutorial team is none other than Sir Julian and Grace Warwick, the father and sister duo of our beloved William. The case proceeds and the jury is empaneled, leaving the courts to decide the fate of Faulkner once and for all.
When Warwick discovers where he can find the Viper's Nest, he's quick to rush in that direction, though it won't be a peaceful arrest by any means. Casualties could be massive as these are the roughest of the rough, Warwick will soon learn that this is the least of his concerns. Entertaining throughout, Archer shows that he is still at the top of his game.
I have long been a fan of most anything that Jeffrey Archer puts to paper, having amassed a large quantity of high-quality novels. This new series, which is the collection of writing referenced repeatedly throughout the Clifton Chronicles, may be set in the 1980s, but can easily hold the attention of the dedicated thriller fan.
William Warwick returns and plays a wonderful protagonist. While he is a sensible cop, his outgoing nature endears him to many. Always looking for the next big break in a case, Warwick works his magic in ways only Jeffrey Archer could connive. With his strong ties to family and his workplace, Warwick's character develops throughout this piece and there are hints that he will have to branch out in the upcoming novel, as he is sure to take on a new role or two.
Archer does well in developing some of his secondary characters too, who surely help enrich the story in many ways. From the others in the Warwick clan to those who work within the Met, each flavors the narrative effectively and advances Archer's ever-developing plot. While some are recurring characters, there are a handful of strong one-timers, all of whom keep the reader entertained throughout.
The book proves highly entertaining, advancing the series well while keeping things highly realistic. Set in the late 1980s, Archer uses this backdrop to develop a strong story with numerous plotlines that are sure to keep the reader guessing. There is not a 'dated' feel to the book, though surely the lack of technology mentioned is sure to be noticed by those scouring the narrative. Archer uses his wonderful style to take the reader on this twisted journey, as they lose themselves in the strong narrative. With decent length chapters, Archer uses his style to inject detail into the story, leaving the reader to picture things as they occur. Cliffhangers throughout and some great subplot development that makes wishing for the next book all but essential.
Kudos, Lord Archer, for another success. I can't get enough of your books and look forward to the next publication.
More Police Procedural Reviews
One of the deadliest serial killers the city has faced in years
read more