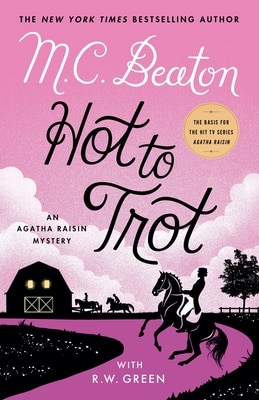 M.C. Beaton with R.W. Green
reviewed by
Blaine DeSantis
For any fans wondering if, after 30 books, Agatha Raisin has become tired or stale, this 31st book proves there's still is a lot of spunk left in Agatha!
Agatha has always combined humor, sarcasm, a frustrating love life, and endearing friends. I have followed her antics and mysteries on the AcornTV series, and what makes this book fun for me is that it's apparent Ashley Jensen and the cast having an absolute blast in this book.
As with all of these books, this one takes place in and around the Cotswolds. This time, the book's narrative surrounds Agatha's friend (and sometimes love interest), Sir Charles Fraith. Much to Agatha's horror, Sir Charles has moved on and is ready to marry one Mary Brown-Field. But is it for love or is it money (something Charles has little of these days)? Mary and her family are part of the horse-crowd. Yes, show jumping, dressage, and wealthy snob set.
Mary and Agatha are not exactly friends, but nonetheless she crashes both the wedding, as well as a Versailles-themed masquerade ball. And, in typical Agatha fashion, finds herself in a bit of a tussle with the now Lady Mary. Thrown out of both events, Agatha gets pulled in when a murder occurs shortly after this confrontation.
She now has to investigate the Charles Fraith Murder case, with a host of suspects, as well as many hilarious predicaments that only Agatha could get herself involved with. As usual, Agatha uses pluck to extricate herself and solve the case.
Returning in this book are her loyal friends and employees who are as much a part of the series as Agatha herself. Along the way, her Investigating firm gets involved with a mysterious pooper, a poltergeist, a cheating husband, and more. Some of these are just pure fun, and some are involved with the murder!
Lady Mary has a host of enemies, many of whom are part of that show-jumping world, and many of her enemies have good reason to want her dead. As Agatha sorts out the clues, she takes a side trip to Bordeaux, France for an equestrian event where she almost falls head over heels for a wealthy French aristocrat and winemaker.
Hot To Trot is another fun entry in the Agatha Raisin series. When you sit down with this book—as with all of the Agatha Raisin books—you are surrounded by the epitome of both a cozy mystery and a welcomed friend.
Other Cozy Mystery / Detective Reviews
A detective must delve deep into a dead man's past to find a killer
read more