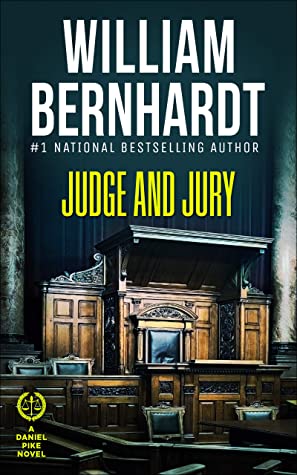 William Bernhardt is back with another legal thriller that pushes Daniel Pike and the Last Chance Lawyers into the middle of quite the quandary. After much string pulling in the background, Conrad Sweeney is forced to face Daniel in court, though justice may not be as blind as it claims to be. While on sabbatical to clear his father's name of a murder for which he was convicted, Daniel Pike helps to upend a major organ trafficking ring. 
When the local leader is gunned down in court, Pike cannot help but presume that Conrad Sweeney, local philanthropist, may have something to do with it. Goading Sweeney into making some slanderous comments in public, Pike leaps on this and files a civil suit, hoping to both clear his father's name and get Sweeney's involvement with much of the crime in St. Petersburg on the record.
However, while Pike turns to his colleagues at Last Chance Lawyers, he is not immune to issues of his own, having been involved with known murderers—both personally and professionally—and tried for the crime himself. As the legal wheels turn, Sweeney and his defence team seek to create as many blockages as possible, still plotting to ensure Pike never works in town again. Meanwhile, a cartel with ties to Sweeney is still riling after losing their latest black market scheme, all because of Pike.
Someone will have to pay and blood will be shed. This is yet another instance where fancy legal briefs and well-timed objections cannot save the day. Another decent addition to the series by Bernhardt, who's looking at new angles to keep the novels fresh. Recommended to those who have enjoyed the series to date, as well as readers who enjoy the fast pace any trial and investigation brings a well-balanced book.
I am a longtime fan of William Bernhardt and his legal thrillers, which have taken things to new heights in a genre that appears supersaturated. His newer Daniel Pike series has grown on me, with its unique approach to defence work on the Florida streets. The premise of this piece leads itself to being the climactic novel where Pike can finally challenge Conrad Sweeney and air all the accusations, after seeing so many negative things with the philanthropist's fingerprints on them.
Pike has been through much in the series, but always seems to grow as an individual. While the central focus is character development and how to foil the ongoing plots of Sweeney, there is a great deal of important backstory that attentive readers will want to learn. Bernhardt has held out, offering only tidbits in the past, but this is where it all comes together, forcing Pike to digest much more than even he expected.
The cast of strong secondary characters provides the reader with some great support as the story progresses. Pike's peaks and valleys are certainly complemented by those who fill the pages of this thriller, offering a flavouring all their own. The story began a little slowly, seeking to flesh out some of the issues with the blackmarket and (another) scheme in which Conrad Sweeney is acting as puppeteer. However, once the civil law theme emerges and the narrative gains some momentum, it is a strong story that finds a decent groove.
With a mix of boardroom and courtroom legal drama, there is much for the reader to enjoy while getting their dose of the law. Mid-length chapters allow the story to develop without offering too many teasing cliffhangers, though things move along quickly enough that the reader wants to keep going. It's anyone's guess how the series will progress from here, with an ending that leaves the reader somewhat in suspense and the title of the next book offering what might be a sense of closure. One can only guess what William Bernhardt has in store next, but it is sure to be something worth the wait.
The bottom line: Kudos, Mr. Bernhardt, for another winner. I can only hope you can balance your writing workshops and publications, as both are quite important to ensuring great novels emerge. 
A historical tour of one of our most popular literary categories
read more