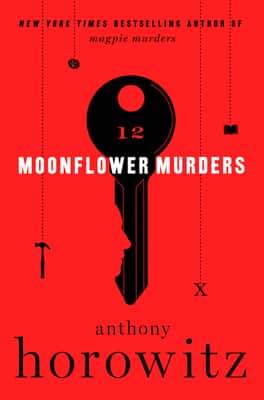 reviewed by Marialyce Weinreich
For many of us, our Saturday mornings were spent watching cartoons, but it was Saturday afternoons we most looked forward to as this was the time when we curled up on the couch and watched with our parents the old movies. 
They offered suspense, mystery, and a black and white allure that kept us all glued to the channel as a host of sleuths created by the likes of Agatha Christie, or Philip Marlowe. Sir Arthur Conan Doyle, Wilkie Collins, and Raymond Chandler to name a few, had us in a tizzy trying to figure out the who of the whodunits.
Anthony Horowitz has often paid homage to these greats and in this his newest book, Moonflower Murders, he once again takes us on a journey that is twisted and circular daring his readers to figure it all out before the last chapter ends.
Susan Reyland, a character we met in Horwitz's Magpie Murders, is back, this time assigned to the task of figuring out where a young woman, Cecily, has disappeared to. Susan originally encountered Cecily's parents when they came to stay at a hotel she and her partner own on an island in Greece. They relate a strange yet alluring tale. It seems that on the day of Cecily's marriage, a murder occurred in their hotel. Susan finds herself drawn in by the story and when an offer is put forth by the Trehearnes for Susan to come to their hotel Farlingaye Halle, she's game for the chance.
Alan Conway the now deceased author she once represented and writer of The Magpie Murders, knew the man Frank Parris, whose death occurred on Cecily's big day. In fact, in his third book in the series, entitled Atticus Pund Takes the Cake, he wrote of this crime.
When Cecily reads the book, she is convinced she knows the culprit, as Alan had left clues to who the murderer was. She embarks on a mission to free the young Romanian man who was tried and convicted of the crime. She is a lady on a mission but then she disappears and the hunt is on for Susan to figure out all the links, the innuendoes, and finally the killer. It's a strange and complicated mission and as this book is a book within a book, Susan must once again acquaint herself with the Atticus Pund story and see if she also can see what Cecily saw.
It's a baffling ride through characters that always seem to be guilty. The dark and mystifying story is enhanced by the aura of the old-time mystery stories, those that offer so many "guilty" parties and some marvelous curves and spins that we are definitely thrown off many a track.
It's a long story, over six hundred pages, and one needs a keen level of concentration and study, amassing details along the way filing them into your brain's folder to put the very complicated pieces together.
It's definitely a treat for the detective in you and one that I definitely recommend if you have a touch of Sherlock Holmes, Miss Marple, or Philip Marlowe coursing through your veins.
My thanks to Anthony Horowitz (always a pleasure to read his books), Harper Publishing, and Edelweiss for an advanced copy of this book due out on 11/10/2020.
She'll learn just how far she'll go for a good story
read more