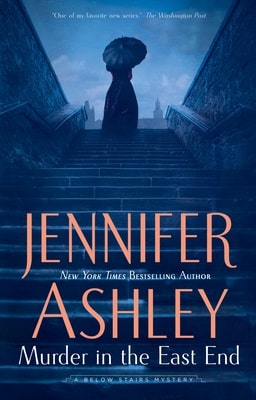 Murder In The East End is the fourth book in the Kat Holloway series. Here, cook (and amateur sleuth) Kat Holloway, searches for several missing children. The book works fine as a standalone.
In the late 1880s, Mrs. Kat Holloway is employed as a cook for the Bywaters, a wealthy London family. Kat is a single mother whose daughter, Grace, lives with kindly people called the Milburns, whom Kat visits on her days out. Kat also has a friend, Daniel McAdam, who works as a deliveryman, but is really an undercover agent who helps the police. Kat and Daniel have warm feelings for each another, but circumstances prevent a serious romance.
One morning Daniel and his foster brother, Vicar Errol Fielding, ask for Kat's help. Fielding, who's on the Board of Governors of London's Foundling Hospital orphanage, has learned that several of the children are missing. Moreover, a caregiver named Nurse Betts, who was terribly worried about the missing orphans, has vanished as well.
Kat visits the Foundling Hospital, where the matron tells her there's been a misunderstanding: the children aren't missing, they've been sent to good homes, and the addresses can be found in the Board of Governors' records. The vicar, Mr. Fielding, checks out the supposed addresses and reports there are no houses there. To double check, Kat looks for the addresses herself, and—at one site—observes a new brewery being built. To her dismay, thugs guarding the street won't let Kat pass, rough her up, and chase her away.
All this raises suspicions that something bad happened to the children, and Kat, Daniel, and the vicar fear the orphans may have been sold to a brothel. If so, there's a conspiracy at play, one that includes at least one member of the Board of Governors as well as Foundling Hospital staff.
Finding missing persons is a job for the police, but Kat can help by reaching out to her 'downstairs' connections, such as cooks, maids, butlers, footmen, cleaners, etc., who know what's going on in the places they work. Kat also gets assistance from three upper-class women and a gentleman.
The story is enriched by additional characters, including kitchen assistant Tess; maid Elsie; housekeeper Mrs. Redfern; butler Mr. Davis; and teenager James, who's Daniel's son. One of the book's most colorful characters is Bessie, a former foundling who's not about to be pushed around by anyone.
The book provides a peek at Victorian England, which had some odd amusements. For instance, wealthy patrons could visit the Foundling Hospital on Sundays to watch the orphans eat dinner, like animals in a zoo.
It also offers mouth-watering descriptions of Kat's dishes, including roasted duck with boiled potatoes; meat pies; lobster rissoles; rhubarb tarts; apple charlotte; Maid of Honor tarts; petit fours; and more. Delicious!
The Bottom Line: There's plenty of suspense and action in this historical cozy, and the 'upstairs-downstairs' scenario provides a fascinating glimpse of a faded culture.
More Historical Mysteries
A former Secret Service agent receives a visitor who is being trailed by a killer
read more