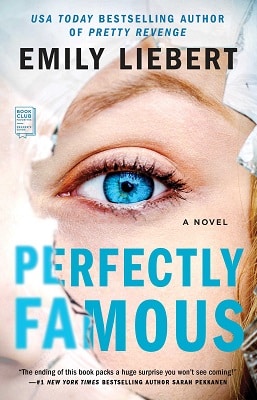 Review by Tehra Peace
Goodreads score: 3.44
Amazon score: 3.8
A famous crime novelist flees from the spotlight after a brutal attack on her teenage daughter. An aspiring journalist sets out to find her, believing that telling the author's story will jump-start her dead career.
Emily Liebert's Perfectly Famous is a game of hide and seek in which we follow two protagonists in parallel. Ward is the aforementioned novelist. Things are going well until a few pages in. She's got the kind of 
commercial success writers truly can only dream about: the lines at her book signings wrap around the building, and that's just at the start of her fifteen-city tour. As a single mother, she has her challenges, but she's close with her teenage daughter, Stevie. Ward's story takes a tragic turn when Stevie is kidnapped the evening of her book signing. The next day, the news of her murder hits every station. Ward subsequently disappears, unable to function in the life she had built for herself.
When our second protagonist, Bree, hears of Stevie's death, it hits hard. She was at Ward's book signing that night—plus, she has a teenage daughter of her own. Unlike Ward and Stevie, Bree's relationship with her daughter is 
not so great. Chloe is going through a rebellious phase in the wake of her parents' divorce. Rather than try to fix things with her daughter—Bree spends the majority of the book falling down as a parent in one way or another—she distracts herself with the mystery that is Ward's disappearance.
Eager to reclaim a professional identity, Bree starts writing for her local paper. She decides that finding Ward and piecing together what happened to Stevie that night will be her break into the big leagues. Meanwhile, Ward is hiding in her hometown, reconnecting with old friends and her high school sweetheart. There's tension in whether the two women will finally connect, and plenty more in the way of 
other external forces.
The suspense is done well throughout most of the story, with dual perspectives that keep things moving. Like any good mystery, there are plenty of reveals and twists along the way. But the writing lingers a little long on chatter and descriptions that really don't impact the key storylines. There are pay-offs along the way for both protagonists; whether they are well-deserved is up to the reader. The ending has a twist that some readers will have seen coming and others might find frustrating.
The bottom line: Read Perfectly Famous for the strong voice and midpoint twists, and accept the dramatic turns for what they are.
She'll learn just how far she'll go for a good story
read more