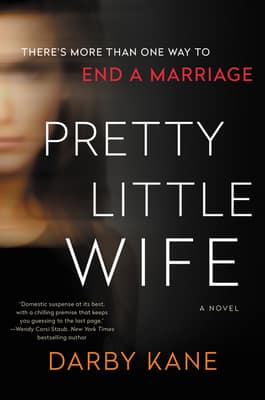 reviewed by Michael David
If you're looking for one of the best and tightly-plotted thrillers you'll read this year, let me introduce you to Pretty Little Wife. This domestic thriller that will leave you gasping for air.
Lila Ridgefield is a real estate agent who can work whenever she wants. Why? Because her husband Aaron, a high school teacher, provides for her with his income. And they live in the charming little college town of Ithaca, New York. Life is perfect. Lila is perfect.
Or is it? Is she? First, one person vanished. And then Lila's husband. Murdered by this pretty little wife.
Why does Lila want him dead? Why does she leave his body in a public location? When coworkers discuss his disappearance and cops are brought in, why is his body not where Lila left it? And aren't the dead supposed to stay that way?
Suspense and intensity increase when detectives get involved—not to mention a podcast that discusses missing women in the community—and eventually starts discussing Aaron as another missing person in the area.
And yet, where is his body?
This fast-paced thriller has many tricks up its sleeve: Suspicious narrator, mostly unexpected twists, and an engrossing and shocking conclusion. The writing is superb, and I absolutely loved the complexities of Lila.
Darby Kane is a pseudonym belonging to HelenKay Dimon, and this is her debut in thriller territory, though she's prolific in the romance genre. I have no doubt we will all be familiar with the name when this book is released.
Bottom Line: Are you looking for an unputdownable thriller that doesn't let go of the hold it has on you until the very last page? Here it is.
I look forward to more, and sincerely thank William Morrow and Edelweiss for an ARC of what will surely be on my list of top books of the year.
Other Domestic Thriller Reviews
Finally, she has somebody to share her secrets with over a glass of wine
read more