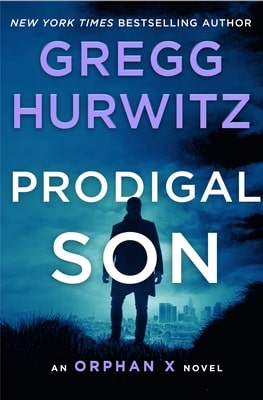 Note: We do not include spoilers for Prodigal Son below. However, content provided in this review is based on the assumption readers are already familiar with Gregg Hurwitz's Orphan X novels and novellas.
Evan Smoak. Orphan X. The Nowhere Man. Three entities, but all one man. Fleshed out in five prior novels and three novellas by Gregg Hurwitz, Prodigal Son is the latest of the novels and continues to offer the consistent quality and imagination as found in the previous stories detailing the progression of Smoak to Orphan X to The Nowhere Man and now back to Evan Smoak.
As readers of the previous stories know, first there was orphan Evan Smoak, raised in a state home until selected at the age of twelve to become a trained assassin by Jack Johns for the highly classified Orphan Program. Through inhumanely rigorous training, Evan Smoak then bloomed into Orphan X, becoming not only the most highly skilled of the Orphan assassins, but also specifically trained by Johns to maintain his humanity while carrying out the coldest and most lethal of directives.
After Orphan X reached his fill of assassinations, choosing to leave the program, he then became The Nowhere Man. The Nowhere Man, with a creed of helping the innocent when no other help could be found, established a type of pay-it-forward practice as penance for his past assassinations. In these newer missions, Smoak would engage the same set of assassin commandments taught to him by Johns, instead now, rather than primarily for mission success, these rules are employed to ensure his own continued survival.
Prodigal Son picks up a short time after the previous novel. After receiving a presidential pardon for past killings, Smoak is attempting to live a normal life under an agreement dictating that, so long as The Nowhere Man remains retired, the government he once killed for will not pursue him.
In alternating past and present chapters, flashbacks offer new details of Smoak's selection and entry into the Orphan Program, while present chapters introduce Andrew Duran, an alcoholic, down on his luck, tow yard attendant. Duran, while working the tow yard kiosk (and for the misfortune of encountering a mysterious, murderous duo) has been forced to flee for his life. Of the duo, one is a well-dressed, highly polished man, who appears to be able to kill at will. The other is his beautiful, movie star-like, female companion.
While Duran is fleeing for his life, Smoak has been receiving calls on his encrypted cellular network from a mysterious woman claiming to possess shocking information pertaining to Smoak. Smoak meets with this woman of apparent great wealth, who persuades him to protect Andrew Duran. In protecting Duran, Smoak enters a world where his enemies are not only more dangerous than ever, but also armed with the strangest and deadliest capabilities he has ever encountered.
Prodigal Son includes characters previously introduced in past novels. Notable among them is sixteen year old computer whiz, Josephine, an Orphan Program washout Smoak took under his wing to mold as Jack Johns once did for him.
Hurwitz continues to create enjoyable, high-tech thriller stories with interesting plots and characters. Oddly, while often these tales include what seems to be a far-fetched, high tech impossibilities, Hurwitz provides enough background and detailing information to make one believe such advanced technology is already available and presently being used. Hurwitz also tells his stories in a way that provides the inner rationales and psychology used by his characters to explain and define their behavior in believable ways.
The tales within the world of Orphan X are always well crafted and as consistently excellent as those by Ace Atkins, Michael Connelly, and Lee Child.
Prodigal Son was provided by Netgalley for the promise of a fair review.
Note: Prodigal Son was included in our list of best thrillers of 2021.
Traveling through different realities, shows danger of living multiple lives
read more