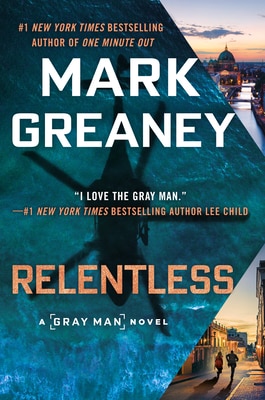 reviewed by Chris Carroll
How can an author keep the edge-of-the-seat action going from story to story, character to character, book to book? It must be exhausting to try and top yourself every time you write. And yet Greaney manages to wind readers up with each installment.
The Gray Man never disappoints.
Once again, the intricate plots and nonstop action (not to mention extremely detailed characters) work together to propel readers on a white-knuckle ride in this tenth installment of the series. Relentless never lets up from page one. Huge twists come fast and only end when you close the cover.
This book flips readers around so many times it's easy to lose track who's manipulating whom, what countries are implicating others, and just who's masterminding it all the world over. No matter how many of these installments I read of the Gray Man one thing is completely clear: it never gets old and it's certainly never boring.
Not only does the Gray Man tear up and take names but we also see old friends, Zack and Zoya helping along the way. From the US to Venezuela, Germany to Dubai, these operators are the best of the best working to save the good and weed out the evil, or at the very least, minimize the threat and fallout. With characters you love to hate, ones you love to see in each installment, and those that make the story credible, you will be captivated with this book.
Relentless is a novel of huge proportion that builds page by page to a giant explosion of complex action. Greaney is truly a master of vivid detail, utilizing his exceptional creativity, and is a storyteller like none other in this genre.
For the top of the game in espionage and black ops, Relentless will hold you captive until the last page. Personally, I cannot wait to see what Greaney comes up with next!
Secret channels of influence that go to the very heart of Western democracy
read more