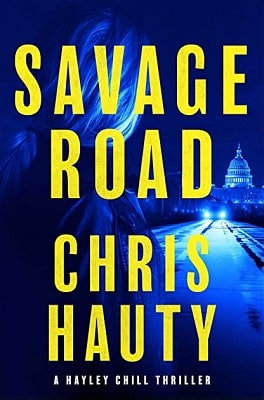 Having been such a huge fan of the first novel to feature Hayley Chill, I embarked upon Savage Road with more than a little trepidation. Second books are notoriously difficult when the author started with such a bang. Was it possible for Chris Hauty to keep up the momentum?
Oh boy, yes it certainly was possible and then some! Savage Road is a brilliantly plotted thriller with plenty of edge-of-the-seat moments, twists, and turns to satisfy the most ardent of fans. The central premise is eerily possible. And then there's the indomitable Hayley Chill: a protagonist with so much bite, readers had best wear a flak jacket.
Once again, we enter the White House, in the middle of a situation that unfolded in the first book. No more about that, except to say the reader is already on edge about what might occur. Then throw in a devastating set of cyber attacks (possible Russian involvement), a clutch of untrustworthy characters (Hayley Chill rightly trusts no-one), and nefarious goings-on at the very highest levels of government. It's the recipe for a political thriller that can't be topped!
There is plenty of action and some further additions to Hayley's personal story that really keep the reader involved and utterly riveted throughout. The story unfolds with classic integrity of plotting, that unpredictable sense that makes a thriller truly thrilling, until once again the book's final resolution changes the rules once more.
The bottom line: Chris Hauty offers a quality of writing here that should be celebrated in this literary era of so many choices. And his political thrillers, Deep State and Savage Road, both offer satisfying resolutions to the central stories while also opening up a world every reader will want to enter again and again. Just like last time, I'm already desperate for the next installment. Now the long wait for more Hayley Chill begins.
Thank you to Atria Books / Emily Bestler Books for the advance reader copy in exchange for an unbiased review.
When his wife dies, he and his thirteen-year-old daughter are forced to move
read more