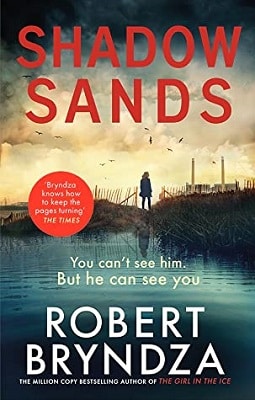 Adding to his successful new thriller series, Robert Bryndza delivers another Kate Marshall novel that will keep readers turning pages well into the night. Not only is the plot one that has great potential, but the characters come to life in a mystery that spans many years. Recommended to those who know and love Bryndza's past work, as well as the reader looking for high quality police procedurals.
Kate Marshall is a former cop with the Met who's been trying to reinvent herself. A full time lecturer who went out on a limb as a private investigator, Marshall keeps herself busy and away from some of the vices that cost her custody of her son years ago.
When Kate and her son, Jake, go diving in the Shadow Sands reservoir, they find more than they bargained for. The body of Simon Kendal is drifting deep in the water, covered in various scratch markings. After calling the authorities and being interviewed by DCI Henry Ko, Marshall and her son continue on with their lives, unable to do much else.
When Marshall's approached weeks later by the boy's mother, she listens to the impassioned plea of a woman who needs her help. While the death was ruled an accidental drowning, something does not add up for Marshall, who pulls some strings and has a medical examiner review the notes. The oddity is there in black and white, leading the police to reopen the investigation. A quick arrest of the boy's camping companion all but puts the case to rest.
While Kate and her university colleague (and sometimes investigative assistant), Tristan Harper, discuss the case, they wonder if Shadow Sands could be as dangerous as past media accounts suggest, where a number of people have drowned over the years. Tristan meets a new professor as part of his daily work and learns that she has an interest in Shadow Sands as well, based on some of the urban legends. Magdalena Rossi and Tristan seem to hit it off and he begins to wonder if there might be a link to the aforementioned drownings.
While Magdalena is out furthering her research, she is attacked and taken captive by a man who seeks to drug her and let her "touch the stars." The disappearance is noted by others and Tristan is concerned that something might have happened. Working with Kate, they try to retrace her steps, only to learn that there have been other disappearances around Shadow Sands, as well as a few bodies that emerged decades ago. When one victim speaks of getting away from an attacker, Kate and Tristan take her word for it. No one else is keen to listen, including DCI Ko, who had her locked away in a psychiatric facility for months.
As Kate wonders about a killer around Shadow Sands, she also has to worry about crooked cops, yet again, who may be trying to sweep this all under the rug. It will take all her skills to find Magdalena and get to the root of these past disappearances, all while dodging those with the power of the force behind them. What's out there and how can the cops turn a blind eye?
Robert Bryndza has kept his fans enthralled with a previous series that took crime investigation to a new level. Now, with this series, Kate Marshall is trying to fill some large shoes and doing well. Only two books into this series and Bryndza has already done a masterful job.
Kate Marshall is a great protagonist, balancing a busy work life with a personal history she would rather forget. Her life at the Met was going so well, until an affair with a superior (while learning he was a serial killer) turned all that on its head. She battles the bottle and lost her son because of it. However, even as she has put police work behind her, Kate has it in her blood and helps as she can. Her off the cuff investigative work keeps her busy and the reader can see her passion blossoming in this second novel, with more to come.
A great set of secondary characters keeps the story on point. With Tristan Harper's return, the reader is able to learn a little more about him. There are some poignant moments in one of the subplots that enrich the larger story and keeps the reader connected to him. The entire cast does well and propels the narrative forward, in a case that spans decades, with much to hide.
Bryndza dazzles readers with this piece, offering great plot development throughout the novel. The story takes many twists, growing from the location of a simple body during a dive into a larger mystery and an apparent serial killer. The narrative builds throughout, as the reader is pulled deeper into the story. The subplots that occur throughout help the reader to see the larger and more personal side of those characters to take centre stage.
Bryndza offers a mix of chapter lengths, helping to push the story along and then keep the reader hooked with more detailed aspects of the case at hand. All this is done with such ease that the reader soon finds themselves devouring the story and losing track of time. This is the sign of a superior novel handled by a great writer. I can only hope that Robert Bryndza's next Kate Marshall thriller packs just as much punch.
Kudos, Mr. Bryndza, for another stellar piece of work. Fans, new and longer-term alike, will find something worth sharing with others.