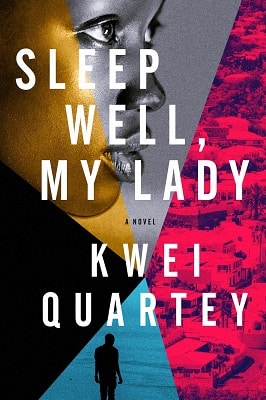 Lady Araba is a successful fashion designer who lives and works in Accra, a city on the Gulf of Guinea and the capital of Ghana. It's a big day as it's the launch her latest fashion show. An on this day of all days,  her assistant is in a panic as she's failed to appear. As frantic calls are made in an effort to track her down, a worker at the guarded community where she lives spots Araba's prone and blood-covered body as he is delivering plant pots to her home.
At this point, we're taken back in time to when Araba as a young girl helped her aunt, Deli, design, make and sell clothes. This small-scale operation proved to be the catalyst for Araba's future ambitions. We also meet other members of the family: her dominant and abusive preacher father, her acquiescent mother and her brainiac brother. It becomes clear that Araba's father always saw a future for his daughter in one of the learned professions but her aspirations and determined nature were to take her in a different direction.
We are also introduced to a respected talk show host called Augustus Seeza, a quick witted and handsome man who is to become Araba's lover, at a point she herself has also become successful. Seeza's father, an overbearing a high court judge and his mother, a doctor, both detest the fact that their son is in an extra-marital relationship with Araba. In addition to this on-off love affair, Seeza has one other compelling relationship… with booze.
Most of the above are later to become suspected of being involved in the murder for one reason or another, together with the worker who found the body. But oddly the one man nobody thought could have committed the crime – Araba's personal driver – is actually arrested and charged with the murder by the chaotic and possibly corrupt local police force. It's not until Araba's aunt Deli approaches a local private investigator named Emma Djan, some ten months after the event, that she and her colleagues in the small firm she works for belatedly begin a proper investigation.
The tone of the story is somewhat whimsical, but with some darker undertones. The investigators receive a surprising degree of assistance from just about everyone they approach and soon they've compiled an exhaustive list of possible suspects. But hard evidence is difficult to come by, thanks mainly to the incompetent way police handled the evidence collected from the crime scene and possibly due to some external meddling.
In truth, it did all feel little slow in places and the constantly changing timeline, between the present and various points in the past, made the storytelling a little lumpy. But I was captivated by the sweet nature of many of the characters and fascinated by the picture painted of life in this enchanting place, on the Atlantic coast of West Africa. And the pace picked up in the last third of the book as pieces of the puzzle started, suddenly, to come together. If, like me, you've previously enjoyed Agatha Christie style whodunnit stories then I'm pretty sure you'll get some pleasure out of this one too.
It's clear that their trickster is actually a murderer
read more