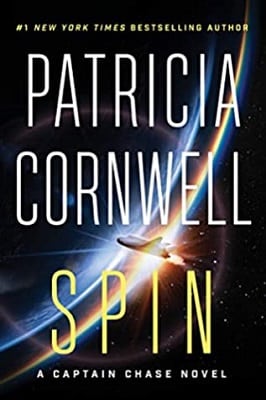 Move over, Bourne and Bond – the espionage game has a new player and Calli Chase is here to finally bring the genre into the twenty-first century.
The second in Patricia Cornwell's Captain Chase series, Spin picks up immediately where Quantum left off. If you haven't read the first in the series, it's very worth reading it before picking up Spin. There's a lot of context that you'll miss if you skip the first book. Mid-snowstorm, following the extremely testing night that capped the last book, we're right back in at the deep end from the start, and for Calli, it's all downhill from there.
For the reader though, those same trials are here to provide the best kind of espionage and technology-based thrills. Cornwell has done extensive research for this series, and it really shows; the authenticity of knowing your subject and your setting can't be manufactured any other way, and there's no gaps in the story that betray the authors who didn't rise to that level of effort. There's no overcorrecting into lecture territory either – it never feels like spoon-feeding the reader; explanations are given without it turning to pandering, and it all ultimately serves the central narrative. A hard balance to strike, and a very accomplished display of the kind of skill that has fueled a thirty-year career.
Calli, meanwhile, is exactly the kind of next-level operative that the espionage/techno-thriller genre has been missing. Incredibly capable but never cocky, she's smart, empathetic, and has a very readable "voice." Her first-person narration grounds some of the more incredible aspects of the storyline, and the connection to her family allows for much more exploration of those close relationships than spy-thriller protagonists are usually allowed. It's such a nice change to see one treated as a human being, having her allowed to feel the impact of some of the events that are happening. Pushing through those challenges, acknowledging the struggles and working her way past them anyway, Calli had me rooting for her – and trusting that she knew what she was doing. By the end, while immediate closure was provided, it's clear that there's a lot of fuel left for more in the series, too.
From start to end, the ratcheting action in this book had me flipping pages like I was the one running out of time. Whether you're an established Patricia Cornwell fan, or new to her work, what a fantastic continuation in a new series from such an established author.
More Action and Spy Thrillers
America is about to face the deadliest terrorist attack on it's soil since 9/11
read more