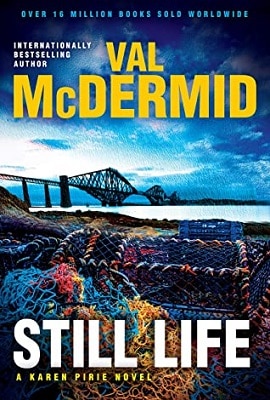 reviewed by Barbara Saffer
In this sixth book in the Detective Chief Inspector Karen Pirie series, the police investigate two cold cases. The book works fine as a standalone.
DCI Karen Pirie of Police Scotland's Historic Cases Unit believes solving cold cases is just as important as solving new ones, to give bereaved people answers. Thus Pirie digs right in when two old crimes land in her lap.
One case is the murder of a woman whose skeleton was found in Perth, on the property of a road accident victim named Susan Leitch. Susan's sister was cleaning out her deceased sibling's garage when she discovered the bones in an old camper van. Since the corpse must have been rotting away for years, DCI Pirie gets the case.
Another case is the disappearance ten years ago of Iain Auld, a civil servant with the Scottish government. Iain was presumed dead, and his brother James—who had argued with Iain about Scottish independence—was the prime suspect. James ran away before he could be arrested and was in the wind until now, when his body was fished out of the Firth of Forth. Since the whole business has political implications, Assistant Chief Constable Ann Markie (aka The Dog Biscuit) is pressing Pirie to resolve the case fast.
Pirie has two assistants to help her investigate. Her trainee, Detective Constable Jason Murray (aka The Mint), helps with the skeleton case; and a policewoman from the Fife crime squad, Detective Sergeant Daisy Mortimer, assists with the Auld inquiry.
The first order of business in the skeleton case is to identify the victim, which turns out to be tricky. Pirie and Jason start their inquiries by investigating Susan Leitch, whose garage contained the corpse. Eventually, the detectives narrow down the skeleton's identity to two women, one of whom is presumed to be the victim and one of whom is presumed to be the killer.
Inquiries in the skeleton case lead the detectives to an artist colony in Glenisla, a woman's father in the Borders, and a church hall in Manchester. At one point, Pirie—who's busy with her other case—sends Jason on a solo mission, which turns out to be a dangerous undertaking.
The James Auld homicide is complicated by the fact that he fled to France ten years ago and changed his name. At the time of his death, James Auld was calling himself Paul Allard and playing in a Parisian jazz band. Pirie and Daisy go to France, where they make significant discoveries. They also learn that Auld traveled to London and Dublin before he was killed in Scotland. In time it becomes clear why The Dog Biscuit is so anxious to have the Auld case resolved and out of the public eye; it may be connected to a scandal the government covered up.
To further her inquiries, Pirie needs phones examined; computers scrutinized; DNA analyzed; etc. To get her requests to the front of the queue at the police labs, Pirie coaxes her colleague, Tamsin Martinu, with chocolate biscuits. Tamsin then chivvies her colleagues to go the extra mile, which puts Pirie's cases on the fast track. Pirie's investigations also require cross-border warrants, which her contacts quickly arrange.
The book alternates back and forth between the skeleton case and the Auld case. However, the story is easy to follow and doesn't get confusing.
Pirie's investigations are complemented by her nascent romance with Hamish Mackenzie, a wealthy crofter and coffee shop entrepreneur who wants to wine, dine, and entertain Pirie in style. Pirie usually eats with her police colleagues, though, and much of their food is described. This includes things like bacon, egg and cheese muffins; fried chicken and chips; crab in rice paper wrappers; pad khing; poppadums; pakoras; curries; Portuguese custard tarts; double mozzarella pizza with spicy salami; and more. The meals make a nice accompaniment to the detective work and sound quite tasty. I also liked some of the novel (to me) expressions, like braw day (fine day); the crack of sparrowfart (early morning); radged (angry); breenge in (rush in); and others.
Bottom line: A compelling police procedural.
Found beside her daughter's grave, her lips sealed together with wax
read more