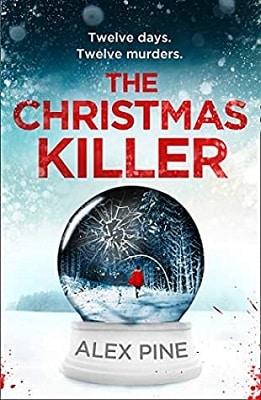 reviewed by
Vanessa Menezes
"Twelve days, Twelve murders, Twelve victims. And they all deserve to die."
DI James Walker is one of the Met's finest Murder Squad detectives. When a notorious London thug, Andrew Sullivan, is released from prison and makes it known that he has his sights set on DI James Walker and his wife Annie, Walker decides to move to Annie's hometown.
After shifting to the sleepy village of Kirkby Abbey he is ready for a quiet family Christmas. But when he opens an early Christmas present left on his doorstep, he soon realizes it is no gift. Inside is a gruesome surprise, and a promise–twelve days, twelve murders. Not long after, the first body is found, half frozen in the snow.
As the blizzards descend, panic spreads through the remote Cumbrian village–there's a killer amongst them, and with eleven more victims to go, anyone could be next…
The minute I saw this book and its cover, I knew I had to read this one! I love holiday mystery & thrillers, and this book didn't disappoint me at all.
It was so well written, that I was hooked on right from the first page and couldn't put it down until I finished it. Even though the main focus of the book was the investigation and finding the killer, I was more interested to find out who would be the next victim and discovering the reason behind it.
The murders are cruel but the method of passing the messages from the killer to DI James was creative and a perfect fit in with the spirit of the season. Despite being a small village there are quite a few suspicious characters. Following my regular tradition of trying to take a guess as to who could be the killer, I did the same with this one and I was glad when I found out that my guess was right.
There were instances when the investigation would slow down and some clues overlooked, but that didn't affect my reading experience. In terms of the main characters, I found Annie a bit annoying because of her constant whining but DI James is a very likable detective, and I would definitely look forward to read more of him.
I thoroughly enjoyed this book and would highly recommend it to anyone who is a fan of murder mysteries.
Thank You to NetGalley and Avon Books UK for this ARC!
More Crime Thriller Reviews
Edinburgh is in lockdown, but that doesn't mean crime takes a holiday
read more