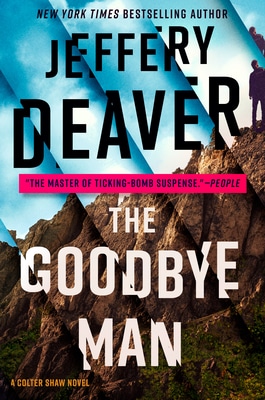 For about three decades, Jeffery Deaver has enthralled readers across the world with his superbly plotted, action-packed thrillers featuring some memorable characters. His latest series featuring Colter Shaw is a testimony to his yet undiminished skill. The Goodbye Man is the second in the series, following The Never Game which was published in 2019.
Colter Shaw's personal mission is to unearth the explosive secret hidden by his father just before his mysterious death, and follow it through to its deadly conclusion. Professionally, he is a reward seeker who tracks down missing persons, escapees from law, and anyone else that needs to be tracked down. Thanks to the gruelling training he has received in his boyhood from his survivalist father, Shaw is extremely resourceful and is highly proficient in the arts of survival in the toughest of conditions.
His job, as this book starts, is the relatively simple one of finding two young men who are on the run after allegedly defacing a church and shooting at its employees. Thwarting the attempt by his rival Dalton Crowe to sabotage the job, Shaw catches up with the runaways pretty quickly and, when the job is nearing its end, witnesses an incident that both shocks and intrigues him. His investigation into the matter leads him to a mysterious organization that ostensibly helps people cope with bereavement, terminal illness, and other life problems. He enters the organization's campus in the wilderness of Washington state under a false identity and, once inside, discovers some alarming facts about the organization which, in truth, is an extremely dangerous cult run by a charismatic maniac. Escaping the sinister cult's grounds with his life, and saving the lives of the many innocent followers, will demand all of Shaw's considerable talents.
Colter Shaw is another unusual and fascinating character from Deaver's stable, and it is a delight following him on his adventures. I hope to see more of the enigmatic Victoria in the future instalments too. The plot, expectably, is crisp, quite plausible, and full of entertaining twists. Though The Goodbye Man works well as a standalone thriller, reading its predecessor before getting to this one will help the reader be better oriented. Deaver ends this novel with a hook—about Shaw's personal quest—that mandates the reader to eagerly await the next episode titled The Final Twist.
In short, The Goodbye Man is a top-notch thriller from one of the masters of the craft that is sure to gratify all thriller enthusiasts!
My heartfelt thanks to the author, the publisher (HarperCollins), and netgalley.com for the ARC in exchange for my unbiased review.
She claims she was kidnapped from her home in Juneau three days earlier
read more