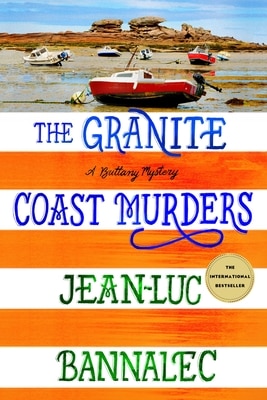 The Granite Coast Murders
Ah yes, it is summertime and Commissaire Dupin and his girlfriend Claire are on a two-week vacation to the coast of Brittany. Idyllic? Not for Dupin, to put it mildly. He was forced to go on this vacation against his wishes, hates sand, and despises the inactivity of lying on a beach towel, soaking up the sun.
Luckily for Dupin, his arrival at the lovely resort coincides with a spate of crimes. But, he can do nothing officially about this since this is not his jurisdiction—plus he is on vacation. It does not matter to the locals, as he is peppered with information about such things as the disappearance of a cross from a local church, the break-in at a tourist site, a stone thrown through an elected officials window, and the story of a 7-year-old death at a local stone quarry. Despite the lovely dinners at the hotel and the outstanding scenery at the resort, Dupin has little time to enjoy either, since he is now "unofficially" making inquiries in order to escape the sandy beaches of the area.
The book covers a one-week period, with each day being its own chapter. And as the days go on the chapters get longer as Dupin gets more involved in these cases. As he tries to establish a pattern in these local crimes, a murder occurs. Then the wife of another resort guest disappears. Shortly thereafter another murder takes place, and before you know it Dupin seems to spend more time trying to unofficially resolve these crimes than he does relaxing and enjoying the beautiful pink coast and beaches.
This is the sixth book on the series, and Bannalec does a wonderful job describing the unique food, scenery and culture of the Brittany region. Even if this is the first book you have read in the series you are not at a disadvantage since Bannalec skillfully weaves a story that does not rely on any past character development, and is totally separate from any of the previous cases in this series.
Some people love beach vacations, Commissaire Dupin is not one of them. Luckily for him, the residents of the town continue to interrupt his vacation with tips and details about these cases, and Dupin is able to find time to poke around town to see if he can figure out the connection between these perplexing crimes.
A wonderful mystery story that transports you to the coast France and introduces a host of quirky characters, as well as helping Dupin salvage his sanity and his vacation by solving these crimes.  
An archivist is found dead of an apparent drowning
read more