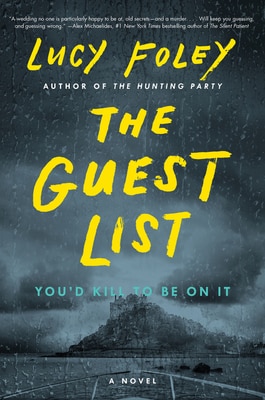 review by Tehra Peace
Goodreads score: 3.89
Amazon score: 4.4
A good mystery shows restraint—in characters, settings, and backstories. The ending pays off on the "why" of the mystery without surprise elements that feel out of place or raise more questions that they answer. The Guest List accomplishes this beautifully, a classic who-and-why-done-it with a hint of Agatha Christie, topping the charts as a New York Times bestseller and a Reese's Book Club pick for 2020.
This is a story with restrictions in the best way possible: an isolated setting, a time span of two days, and a locked-in cast of characters. It all centers on a larger-than-life wedding. To say that the bride, Jules, is driven is an understatement. She's a control freak who's built her own lifestyle media company from scratch. As such, she insists on hosting a wedding like no other. This might make her seem unlikeable, but she's not undeserving of love, and her soft spots—for her little sister as well as her long-time best friend—make her relatable. The groom, Will, is the star of a reality TV show in which he must regularly survive the wilderness. It's fitting, given the theme. 
The wedding takes place on a hard-to-reach island off the coast of Ireland—one that's arguably haunted. Once they're there, no one can leave. At least, not easily. As the guests arrive, we're treated to shifting point-of-view chapters that let us in on each guest's backstory. And everyone has a dark past in their own way, whether it's the prep school boys with a shared secret, the angsty little sister, or the uptight school teacher. It's easy to find yourself genuinely invested in these side stories without getting whiplash with the point of view changes.
As for the main plot, all we know at the beginning is that someone has died. We don't know who, how, or why. Along the way, we learn all these things through well-paced reveals and motives that make sense. There is no de facto detective in the story; rather, the reader serves as the detective as we put together pieces of the puzzle. The suspense builds nicely with multiple plotlines that converge. By the end, everything comes together well with a conclusion that delivers a bit of schadenfreude. It's a good reveal with nothing that comes from out of left field.
The bottom line: For a moody and engaging read, you can't go wrong with The Guest List. It's a solid choice for curling up over the weekend, especially if it's a dark and stormy one. 
Their one purpose: to bring down the ruthless and elusive serial killer
read more