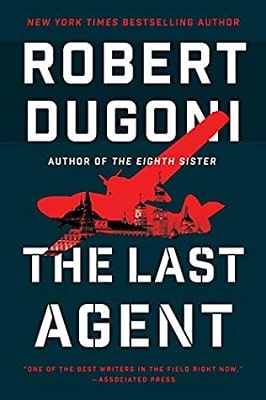 Thrilling readers throughout this espionage thriller, Dugoni shows he can craft sensational characters and keep the plot moving along. Even behind enemy lines.
After a grueling experience in Russia, Charles Jenkins has no interest in returning. His family is priority number one; and, with a new baby, he doesn't want to risk upsetting his wife. When a CIA operative approaches him, Jenkins is not interested in the message.
The Agency is still wondering about their Seven Sisters project, more specifically the Russian CIA operative who helped Jenkins while he was there. Paulina Ponomayova sacrificed her safety to ensure that Jenkins made it out. If she is still alive, the Agency wants to know about it. Jenkins gives this some thought, wondering if he might be able to extract Paulina and save her as she did for him. A long chat with his wife leads them to understand the need for one final sacrifice.
As Jenkins travels to the region, he will have to make his way on Russian soil and work his magic. Keen to show off his skills, Jenkins boldly enters the country and drops numerous breadcrumbs regarding his presence, which raises many red flags with the FSB, Russia's Security Agency. As Jenkins seeks to lure them, he touches base with Viktor Federov, the FSB agent whose failure to apprehend Jenkins the first time left him in major trouble. While Federov is leery at first, he soon realizes that Jenkins is seeking to redeem them both for troubles their respective countries placed at their feet. They devise a plan to locate Paulina and try to get her out of the country as quickly as possible.
A chilling spy thriller that I had not expected from Robert Dugoni. This is one novel sure to receive much attention for the foreseeable future. Recommended to those who enjoy Dugoni's work, as well as the reader who finds modern espionage to their liking.
I have been a fan of Robert Dugoni's work for a while, which usually focuses on legal or police matters. However, this novel has all the elements of a new genre for the author, something he seems to have mastered as well. The attention to detail is evident throughout and the reader is sure to feel as though they are right there, with the ever-developing plot.
A handful of great secondary characters help flesh out the clash, particularly within Russia. Dugoni's detail when forming these characters works so well and the reality of the situation becomes apparent throughout, which serves to permit the reader to feel a part of the action. One cannot read this book and not feel that Adam Efimov played a key antagonist role, depicting both the traditional Russian and one whose new connections with the current regime have helped him climb the proverbial ladder.
The story began strong and kept getting better. I cannot say enough about Dugoni's ability to cobble together something so air-tight and yet not forget to inject some needed humor throughout. A modern Cold War spy thriller for sure, which had the elements of reality sewn into its plot. Using great dialogue and multiple languages kept the reader feeling as though they were standing beside the characters and living each moment.
While I do love the Tracy Crosswhite series, this was a wonderful break and shows me that Robert Dugoni's versatility is surely something to earn him an even larger fan base. Plus, the cliffhanger ending leaves things open for a trilogy.
Kudos, Mr. Dugoni, for another wonderful book. You never cease to impress, and I cannot wait to see what else you have up your sleeve.
A spy thriller set in the 1930s when the world was a place of uncertainty
read more