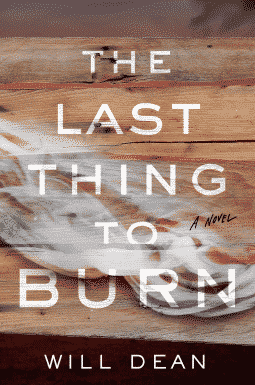 Oftentimes, in both fiction and non-fiction, human villains can be more terrifying than the supernatural kind. And sometimes, the scariest monster isn't under your bed. He's in it. 
The Last Thing To Burn, which reads more like a memoir than a piece of fiction, opens with Thanh-Dao, a young Vietnamese woman with a hobbled right ankle, running down a dirt road through farm fields, pursued.  The man she's fleeing from is her husband, Lenn. And we soon learn both Thanh-Dao and her sister, Kim-Ly, have arrived in modern-day England through a human-trafficking ring. They'd agreed to come to England under the promises of a better life, but two were instead separated and sold to despicable men.
Back to the pursuit: Thanh-Dao is captured by her barbaric husband and returned to their obscure cottage on a remote farm.  Thanh-Dao—restrained by Lenn in his ramshackle, rotting cottage—is forced into compliance with stringently restrictive, almost impossible to follow rules. Chief among them is the coercive demand that if she ever wants to see her sister again, she will comply with all of his whims, otherwise the other man in possession of Kim-Ly will have her deported in shame back to Vietnam.
Importantly, in coming to England, Thanh-Dao had brought a very limited number of items. And each time a rule is broken, Lenn will burn one of these irreplaceable keepsakes. Hence the title of the novel.
The Last Thing To Burn is bleak, filled with ups and downs. Though thankfully, when it comes to the brutality of Lenn and his behavior toward Thanh-Dao, Dean avoids salacious descriptions of sadistic depravity in overly exploitative detail. Still, the turmoil and torturous life of Thanh-Dao feels real enough. Dean describes just enough to keep the story compelling without turning this novel into something more depraved.
Readers who enjoy classics like Flowers in the Attic by V.C. Andrews should find The Last Thing To Burn interesting and compelling. A well-written domestic thriller.
The Last Thing To Burn was provided by NetGalley via Mystery and Suspense Magazine for the agreement of a fair review.
More Domestic Thriller Reviews
A mother must confront the dark summer that changed her life forever
read more