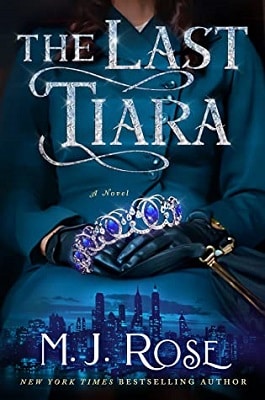 When Isobelle Moon discovers the remnants of a tiara hidden in the wall of her mother's room, she's immediately enthralled. Her mother, Sophia, had always been very secretive about her past in Russia, refusing to talk about life before coming to America when Isobel was an infant. Desperate to find answers, Isobelle enlists the help of Jules Reed, the grandson of the jeweler who was responsible for the design of the tiara. However, Isobelle realizes that Jules is a member of an underground, secret historical society whose primary goal is returning lost items to their owners. Can Isobelle trust Jules to help her uncover the tiara's history, also revealing some of Sophia's own secrets? Or will he betray her, and use the tiara for his own purposes?
The Last Tiara is narrated in two time periods, from the perspective of both Isobelle and her mother, Sophia, with each segment clearly marked and dated. I thoroughly enjoyed learning of the Moon women this way, understanding their individual struggles, and eventually bringing their struggles together to a satisfying conclusion. Both Isobelle and Sophia are brave and powerful women, determined to make it on their own- Sophia, desperate to raise her child in a free world, and Isobelle, trying to garner success as an architect in a strictly-male dominated field. Everything about these women is worth cheering for and I was eager to see how their stories would play out.
Ms. Rose has a magical way of retelling history, and using her descriptive language she is able to portray the desolation of Russia, as well as the beautiful up-and-coming New York City, in a way that completely immerses the reader in history. Not only is the romantic endeavours of Sophia and Isobelle at the forefront of this novel, but I also learned a little bit about the Boleshvik's, the Russian crown jewels, and the disappearance of the Tsar and his family. The Last Tiara is a story that will provide a reader with page-turning entertainment, while at the same time providing a reader with knowledge and information. This is not an easy thing to do, and bonus points to Rose for managing this task impeccably.
The unexpected ending of The Last Tiara delighted me. Not only was it believable but it came out of nowhere, and provided the perfect ending (even though it wasn't what I was expecting!). All of the characters got exactly what they deserved, and I was left feeling completely satisfied.
The Last Tiara is an absolute historical suspense gem, and I cannot wait to enjoy MJ Rose's past and future works!
A woman vanishes from her home with her diplomat husband and children
read more