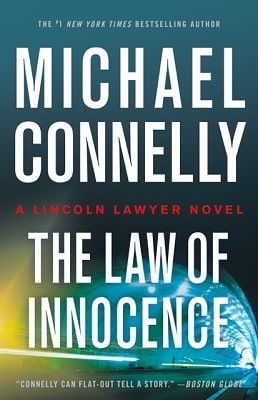 reviewed by Susanne Strong
Mickey Haller never thought in a million years that he'd have to defend himself. That day, however, has arrived.
When Mickey Haller is stopped during what appears to be a routine traffic stop, he initially thinks nothing of it, until a search of his trunk reveals the dead body of one of Haller's former clients inside.
The next thing Haller knows, he's in prison garb and awaiting a speedy trial. Fortunately for Haller, he has an entire team on his side including two ex-wives and his half-brother and retired Police Detective, Harry Bosch. Now he just has to prove "The Law of Innocence," meaning that in order to prove that he didn't do it, he has to prove who did.
The court battle ensues with Haller, his law partner, Jennifer, and his ex-wife, Maggie McPherson, on his side against the prosecution which has it out for him from the get-go. The arguments are brilliantly plotted, and the action is wholly compelling.
For those who love courtroom thrillers, The Law of Innocence delivers!
What I loved most, besides the appearance of Harry Bosch, was how the predicament Haller was put in changed his persona. Haller is known for being big, brash, and larger than life. He is a showman in the courtroom: he often throws in a lot of antics and they tend to work to his advantage. Here, because he's framed for a murder he didn't commit, he understands the perspective of the clients he has represented all his life. That turn of events shows a softer, more humane side of him and it made me like him more as a character. I have never quite liked Mickey Haller and yet the way he was portrayed in this novel endeared him to me. I loved seeing him interact with his ex-wife Maggie and have high hopes for the two of them.
The characters truly brought this novel home. I have read every single book Michael Connelly has ever written (having started in the late 90's) and I feel like I know the characters really well and think of them as friends. (Can I just say that the reappearance of Maggie McPherson was something else?!)
What I also really appreciated about this novel is the fact that it is the first one I've read that includes Covid-19 in the storyline. Michael Connelly incorporated the virus in a very realistic way, which I must give him kudos for. I hope that other authors will follow suit.
A huge thank you goes out to Edelweiss, Little Brown and Company, Hachette Book Group, and Michael Connelly for the advanced readers' copy of this book which will be published on November 10, 2020.
A body is found in a farmhouse in a gruesome state
read more