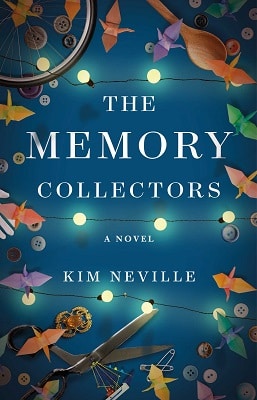 Evelyn is a young woman who sees and feels objects as "stained," their negative experiences left behind on the surface. Harriet is an older woman who lives among her "bright" objects—objects that Harriet believes carry bright and happy memories. One woman is desperate to close herself off and let go, while the other is just as desperate to hang on. When Harriet recruits Evelyn to help her with sharing her bright objects with the world, she does not expect Evelyn to bring her stain with her. Soon the two women are caught in a desperate battle to save themselves, and each other.
Neville's novel initially plays out in a similar fashion to Paula Brackston's The Little Shop of Found Things, with magical objects and a young woman's ability to read them. However, as you delve deeper, the emotional energy and power of "Collectors" comes to the surface. Objects are now both positive and negative, and they have the ability to help you move on, or to bury you.
Harriet and Evelyn are intriguing characters, both flawed from troubled and broken backgrounds, and both have different ideas as to their abilities. Although in every respect Harriet is a hoarder, she is also a woman full of hope and enthusiasm, regardless of her age and mobility. Evelyn's sister, Noemi, is self-centred, entitled and spoiled. However, her personality helps the reader to understand Evelyn far better, and is therefore a forgivable foil. Owen, too, adds a little masculinity to the mix. He creates artwork from the found pieces in an effort to reconnect with his estranged son, and though not a major role, he crucially serves to connect Harriet and Evelyn.
The story is told from the perspective of Harriet and Evelyn, alternating between present day and (at least in Evelyn's case), a defining incident in her past. This style increases the tension and suspense, as the reader is aware there must be a secret waiting to be revealed. The build-up makes the reveal that much more enjoyable. When the ending came, it was not entirely unexpected, but it was well-written and perfectly meshed with the flow of the story.
The Bottom Line: The Memory Collectors is an incredibly moving tale, and impressive debut. Neville writes with skill, grace, and emotion, which portends to a successful career. Readers who are looking for suspense with a little bit of magic, mixed in with raw emotion and heartbreak, will find what they seek in The Memory Collectors.
More Supernatural Suspense Reviews
She awakens with no memory of how she traveled into the future
read more