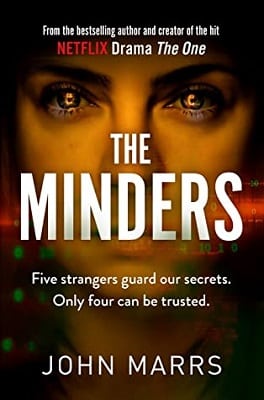 reviewed by Michael David
The Minders is the eighth novel from John Marrs, but the third in the futuristic thriller genre. It does not disappoint! However, even though this is technically a standalone, I highly suggest you read The One and The Passengers first given all the references.
In the very near future, there is a Match Your DNA dating site and cars that run by themselves, (fans of the author will understand the references). A group known as the Hacking Collective recently got into the data of the driverless cars and caused a massive act of terrorism, named "the single biggest loss of life on British soil since the Coronavirus of 2020."
Now, the British government is understandably wary about how they store data. They come up with a plan: take 5 people and impregnate their brains with top secret information. The information will not be online or on paper, and hackers will not be able to infiltrate their way in.
These five individuals, The Minders, have every bit of information about the government and their coverups, their deceptions, the truth and lies. Now, all they have to do is stay off the radar, keep the information locked, and abandon their former lives for five years… or until the government finds a better solution for safely storing data.
The only problem is, someone doesn't want The Minders to have this information. Someone is hunting them down. Someone will do whatever it takes to satisfy their own agenda.
I'm not a big sci-fi fan, but these sci-fi thriller novels have futuristic elements thrown into the mix that I somehow always end up loving. What impresses me about John Marrs is the way he makes it all sound so believable—and maybe it will be in a few years. At heart, The Minders is a thriller with a futuristic vibe. It offers realistic characters you will care about, rising tension that builds to unputdownable suspense, and twists you won't see coming.
I was invested and gripped by each point of view, and needed to step away more than once to process what I'd just read. The Minders is bloody at times, and bloody brilliant at all times. It all leads to a very satisfying conclusion!
Bottom line: I can't wait to see what Marrs comes up with next. All his work is phenomenal.
Sincere thank you to Penguin Random House UK/Cornerstone for an ARC to review.
The death of a look-alike stranger leads a woman down a troubling path
read more