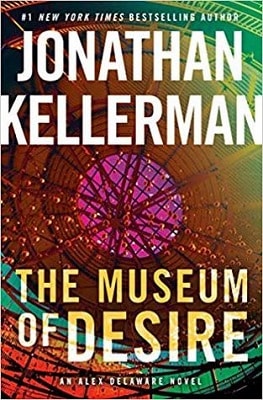 reviewed by Erin Clemence
Four bodies are discovered in a limo, after a party held at a ritzy Beverly Hills estate. The victims are seemingly unrelated to each other, and have all been killed in a different way. At first glance, the only similarity is that the victims were all in the same place at the same time.
When Lieutenant Milo Sturgis and psychiatrist Alex Delaware take on the grisly case, they realize that something more intricate may be behind the murders, but who is responsible?
Going into this novel unfamiliar with Kellerman's work (and with this series of novels in particular) I had few expectations. The good thing about The Museum of Desire is I didn't really need to have read any of the other Sturgis/Delaware novels to be able to keep pace. Milo and Alex work well together, and any significant parts of their back story were quickly covered. Readers will enjoy the detective-psychologist relationship these two characters had going, and they were both immediately likable and charming.
The crime itself is complex, and the investigation leads down many different paths. There are many, many players involved, and readers will have to pay attention to keep track of who-knew-who and who-did-what. The story starts going down one path, then immediately turns down another with no warning.
Overall, fans of police procedurals will feel right at home here, as Sturgis and his team investigate a brutal murder of four seemingly unrelated people. The ending itself is somewhat startling and definitely unpredictable, however there are many different routes that the plot takes (indigent and homeless, Nazi sympathizers, art dealers) and the ending seems to loosely connect them all, forged together weakly.
The bottom line: A tense police procedural with its fair share of mystery and gore, with likable and intelligent characters.
Special thanks to NetGalley and the publisher for a free, electronic ARC of this novel received in exchange for an honest review.