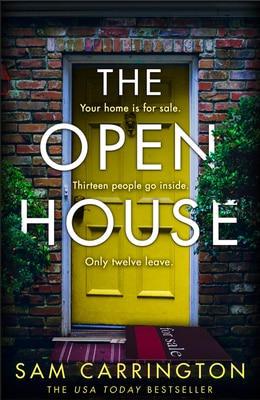 reviewed by Carolyn Scott
Nick and Amber Miller's marriage has been over for nearly a year. Nick, who was caught having an affair, has moved out to a small rented flat while Amber has stayed in the house with their two young sons. The separation has been amicable and Nick and Amber have shared parenting, but now Amber has met someone else and wants to move on. However, first they will need to sell their house so she can start afresh with her new partner.
So far there's been little interest in the house. It could be that Carl—the creepy real estate agent (the only one in the village)—is useless, or that the proposed development in the field behind their street is putting people off. But more and more Amber suspects that someone might be meddling with would be buyers.
In desperation, Amber allows the real estate agent to organize an Open House inspection to stimulate interest. Watching remotely on the front door camera she's pleased to see thirteen people go into the house but is puzzled when only twelve leave before the real estate agent locks up and leaves.
From there events start to become quite creepy. Amber wonders if the thought of an intruder being in her house is making her become paranoid and imagining weird noises and happenings in the house. She's also not sure who she can trust. The real estate agent definitely seems to be up to something and Amber's mother-in-law Barb isn't above interfering to prevent her grandsons moving away.
Narrated alternately from Amber's and Barb's points of view interspersed with occasional comments from an unknown person, the plot is a slow boiler skillfully building up the intrigue steadily with weird events while keeping us in the dark about what really is going on with Amber's house. The main characters, Amber and Barb are well portrayed, with Amber always slightly on edge and jumpy, trying to protect her sons and Barb the noxious and interfering mother-in-law, trying to make Amber see that she should get back together with Nick and stay in Devon.
The ending when it comes is unexpected with shocking secrets and revelations, taking the plot in a different direction to where it seemed to be heading and may seem too sudden a change and somewhat overdramatic for those enjoying the slow build up of the creepy atmosphere. While I didn't love the ending, it was certainly plausible and explained all the weird goings on in Amber's house. I did very much enjoy the unique plot and especially the atmospheric tension in the build up.
With thanks to Avon Books UK and NetGalley for a copy of the book. Publication December 10, 2020. 
More Pscychological Thrillers
Why would you pretend your life is a dream when you're living a nightmare?
read more