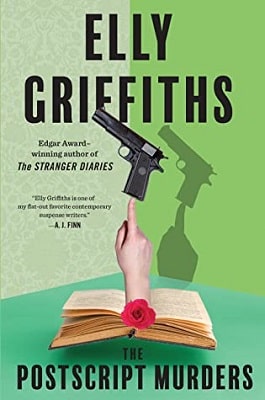 The Postscript Murders first came to my attention as one that would appeal to fans of Agatha Christie. While there are similarities, to me it's closer to a book that might appeal to fans of Rex Stout. The story is compelling, with a tight mystery along with additional storylines that are resolved throughout. Put together, these all combine to make it a hard book to put down.
As in the Rex Stout books, DS Kaur has an almost uncanny ability to remember and interpret information, then put it together to reach the correct conclusion. In almost every instance she reaches the correct conclusion ahead of others in the book and is there, calmly waiting when they arrive at the solution; in some instances, she has even started the wheels of justice turning.
Physical descriptions for the characters are limited, so the overall picture of what they look like can be created by the reader. For example, Griffiths tells us that DS Kaur is a Sikh, but beyond that there is little additional information. The same is true for the band of amateurs Edwin, Natalka, and Benjamin who are also trying to solve the murder. There is a basic framework provided by Griffiths that tells us Natalka is a beautiful blonde from Ukraine, Edwin is a gay, natty-dressing man who has retired from the BBC, and Benjamin was a monk before he left the monastery. Most of the rest comes from the reader's imagination.
Personalities and behaviors of the characters are well developed with good depth and unique voices. Much of the reader's image of each character springs into the mind, fully formed, based on their thoughts and actions. The characters are so fully formed that the reader may feel as if they would recognize them if they passed them on the street. The difference comes in because one reader's image of a character's physical appearance may be completely different from another reader's.
The point of view shifts from one character to another with each chapter, and clear labelling of the chapter with the character's name makes it easy to keep these shifts straight with little effort. The shortness of these chapters encourages a reader's tendency to read "just a little more" as they can see there are only a few pages before the next change. With such an engaging storyline and short chapters, the reader may suddenly discover they've read well past when they planned to put the book down. This is actually a good way to read this book as it allows for the continuity of the story. While it's possible to read this book as one might a "beach" or "airplane" read, it will probably be more enjoyable for the readers who choose to read in larger swaths.
The crafting of the book with short sentences and short chapters also creates a unique feel for the reading experience. It's as if the reader is actually reading postscript notes and these notes are being strung together to create an engaging story. Included in this  unique style, Griffiths also writes an occasional sentence which reveals the character's state of mind.  Through this method the reader gains insights such as what DS Kaur thinks about her partner, Neil or how Edwin dismisses a slight, or an indication that he is not as valuable as he was in his younger years. This increases the feeling of knowing the characters on a more intimate level than one might if they were only familiar with the character's actions.
While this is the second book Griffiths has written with DS Keur as a character, they are independent of each other; again, as was the case in Rex Stout's Nero Wolfe books. It is not necessary to read them in any particular order, nor does one book give you any relationship growth that will occasionally be seen in books that are continuing series. In this respect, Griffiths veers from the development of relationships between characters that are often found in book series, including at least two of Griffith's earlier work.
The book opens to a short chapter featuring, Peggy; just prior to her murder. Natalka, Benjamin, and Edwin are the first ones to believe a murder has occurred. They take their thoughts to DS Kaur, who initially dismisses them. From her point of view, the victim, Peggy, was a senior citizen with an entirely logical death resulting from old age. Gradually small bits of information come to light that begin to make it seem murder might, indeed, be possible and when a gunman pulls a gun on Natalka and Benjamin in Peggy's apartment, steals a book, and flees, DS Kaur begins to investigate. The investigation leads her to a writer's conference, even as she learns her trio of amateurs have already made their way there. Information that leads to solving the murder is uncovered by the trio of amateurs as well as by DS Kaur and in spite of her objections, she finds herself working with them to the extent she is the recipient of their discoveries.
My thanks to Houghton, Mifflin, Harcourt for an advance digital copy of this novel for review. The thoughts expressed here entirely my own.