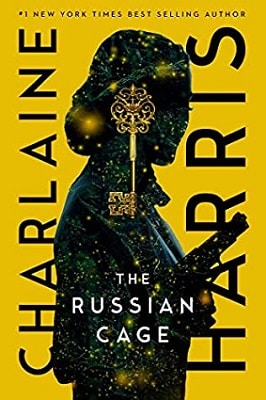 The Russian Cage by Charlaine Harris brings intrigue, romance, danger, suspense, and much more to a well-written and entertaining novel that is a mix of historical fiction, urban fantasy western, and alternate history. It is the third book in the Gunnie (Lizbeth) Rose series and is largely set in San Diego which is now part of the Holy Russian Empire (HRE).
This novel picks up soon after book two ends, with Lizbeth reading a letter from her half-sister, Felicia. There are hints that Lizbeth's estranged partner, Eli Savarov, needs her help. Since his father and two half-brothers were involved in a coup to overthrow the tsar, his political situation is not on firm ground. Lizbeth packs her guns and knives and takes a train to what was once California. Will Lizbeth be able to save Eli? How is Felicia doing in school in a world so different to her native land? How can a gunnie from Texoma (used to be Texas and Oklahoma) fit in when she gets to the HRE? Who can she trust to help her? How will she get along with Eli's mother and sisters? How is a gunnie supposed to help Eli when she can't carry her guns in the HRE?
Charlaine Harris is one of my favorite authors and she did not let me down with this addition to the series. The characters are compelling, led by strong and capable protagonist, Lizbeth. Her lack of patience and unfamiliarity with Russian court protocol made her feel more real. Also, her motivations are believable and well-drawn, while the secondary characters were well-rounded and enhanced the story. The reoccurring characters gained in depth in this book and helped sustain the complexity of this story line.
The Russian Cage has several unexpected plot twists, along with a steady pace. Add that to the fantastic world-building and the cultural elements, and this reader felt as though she were a part of the action. I also liked that there was both some humor and new challenges for Lizbeth to overcome.
Overall, this novel brings thrills, action, family drama, political intrigue, magic, loyalty, power, and much more making it a definite page-turner. Is it the last or will there be a book four?
The Bottom Line: If you like alternate history, action adventure, thrillers, and fantasy, then this series is for you. I recommend reading the books in order. The first novel explains the alternative history aspect that is not fully explained in books two and three. Additionally, both earlier books show the growth of relationships for some of the secondary characters as well as for Lizbeth and Eli.
Thanks to Gallery Books – Saga Press and Charlaine Harris for a digital ARC of this novel via NetGalley. This is my honest review. Opinions are mine alone and are not biased in any way. Publication date is currently set for February 23, 2021.
Traveling through different realities, shows danger of living multiple lives
read more