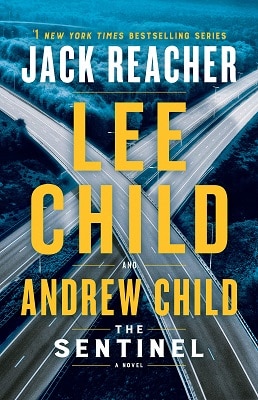 Lee Child and Andrew Child
Reacher fans need not worry, the torch is being successfully passed from Lee Child to his younger brother, Andrew. In substance and in style, the voice of our beloved hero, Jack Reacher lives on. True, the voice is somewhat more loquacious, but Andrew retains Lee Child's inimitable style of conflict resolution through action and violence.
Our story begins when Reacher arrives in small-town Pleasantville via a hitched ride from an insurance adjuster. Reacher's intention is only to stay the night. His needs are simple: find a place to stay, seek out fill his belly at a diner, then off to a bar. First, a cup of coffee.
As he enters the coffee shop, a somewhat unremarkable man is leaving. Reacher, though, knows trouble when he sees it. Senses immediately on alert, he recognizes an ambush, and can't help but intervene to foil an attempted kidnapping. Initially, his efforts are merely polite attempts to diffuse the situation. Escalation is the trademark of a Lee Child book, and here it's no different. Almost choreographed violence ensues, multiple foes beaten into submission.
One of Reacher's hapless victims is recently fired town IT specialist, Rusty Rutherford, apparently hated by the whole town. Why? The town has been a victim of a ransomware attack. Nothing in municipality is functional. Traffic lights. Cell phones. They're all down. And Rutherford is the sacrificial lamb, though he unsuccessfully extolled the necessity of a clean backup of their data. The sinister motive of the cyberattack will unfold as a shadowy force attempts to apprehend Rusty, who is unaware of what he possesses.
The sinister mastermind known as "Speranski" specializes in wet work and torture. The remnants of his interrogation remain as pools of blood on the bunker floor. He has whipped the town into hysteria using the local press, whisper campaigns, and even social media to ostracize Rutherford. His team of interlopers, though, have failed in their attempts to procure Rutherford and have created a spectacle. "The Center" is concerned that an apparent drifter, some kind of ex-military cop has thwarted their every move.
The bottom line: Lee and Andrew Child weave a masterful narrative featuring both intrigue and suspense, complete with the expected Reacher action and violence that escalates into a barn-burning denouement. Featured are multiple three-dimensional characters who propel the action and suspense. 
Thanks to Random House Publishing for providing an Uncorrected Proof in exchange for an honest review.