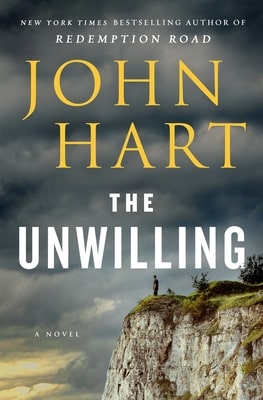 By turns a family drama, coming of age story, and unnerving psychological thriller, The Unwilling by John Hart is altogether a very enjoyable, twisty ride.
This novel is many things, but above all, this is a novel of connections. At the heart of those connections sits Gibby French—son of the distant Gabrielle and the well-meaning Bill, brother to twins Robert and Jason, best friend to Chance, he's the fulcrum that the story hinges on. His uncertainty as he stands ready to move into adulthood is endearing—his determination to, above all, do the right thing is what really had me rooting for him. Having lost Robert to Vietnam, the fact that Jason came home changed almost beyond recognition isn't enough to sever their connection; and when Jason's past comes calling to drop a bomb into their already-disrupted lives, no threat will be enough to keep Gibby from doing whatever it takes to find the truth.
Initially, The Unwilling felt like a family drama, centered around Gibby's coming of age, and his navigation of some truly rocky relationships. But when Jason found himself a suspect in a truly horrific murder, the focus widened to include one of the most chilling villains I've encountered yet. Mr X is the kind of presence you don't soon forget – Patrick Bateman and Hannibal Lecter would envy his detachment, not to mention his funding. His introduction marked a turning point in the story, as he sets into motion a chain of events that lead right back to Jason and Gibby.
It could have felt tricky to reconcile the two parts of this book. That John Hart has knitted those seemingly very different stories together into a cohesive whole is astounding, but he has, and masterfully. Brotherhood underpins everything here—the literal brotherhood of Gibby and Jason; the more figurative but equally strong fraternity of the police their father works with; the bonds forged by soldiers in wartime; even the links between Mr X and his most trusted men. What happens to those chains of connection when they're tested is at the heart of every part of the book, and it took that initial setup to lay the groundwork for the reader to see what was at play.
The Unwilling is the kind of novel I have come to expect from John Hart – an absolutely excellent thriller from an author at the top of his game.  
Editor's Note: We've selected The Unwilling for inclusion on our list of best thrillers of 2021. 
He investigates in secret to untangle the mysteries behind the killer
read more