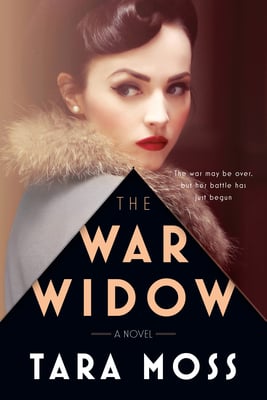 For her 11th novel, Canadian/Australian author Tara Moss, starts a new mystery series set shortly after the end of World War 2. Our hero, Billie Walker, is an anomaly because she's the only female Investigation Agent in Sydney, Australia. Luckily for her, her father had been a policeman before quitting to open the business Billie now runs.
There are a lot of characters the reader needs to quickly meet in The War Widow. The supporting cast includes Billie's male secretary (a wounded war veteran), her mother and mother's maid, and a reluctant but decent police detective. These characters play a big part in Billie's case: the hunt for a young man who has disappeared. It might seem easy to resolve, but the deeper Billie gets into the investigation the more layers she uncovers.
The action takes place in a little over a week, as Billie pursues leads at a local dance club, a high-class auction house, and the famed Blue Mountains of Australia. But even in traveling between these spots, the action and adventure never stops, as Billie seems to go from the frying pan into the (literal) fire, as she exposes the truth behind both the disappearance of the young man, as well as the missing aboriginal girls.
What also makes this book so different from others is its setting. So many books on World War 2 and its aftermath are set in Europe or America, yet it's absolutely refreshing to see a novel set in Australia—a location overlooked for decades as a site of fallout from that war.
Billie, herself, was a journalist during the war and covered events in Germany and Austria, and while there she fell in love and married a photographer who he was taken captive. Billie has no idea if he is dead or alive, thus her mother declares Billie a "War Widow" like so many other women in Australia and throughout the world whose husbands either are MIA or killed and whose bodies are never identified. It's a difficult world for these ladies, and Billie Walker is a struggling survivor who seems destined to take us on many more adventures and mysteries.
The Bottom Line: For fans of Tara Moss, Billie Walker is a wonderful new character who takes us through the history and mysteries of the overlooked setting of Australia. 
More Historical Mysteries
These sisters put their unique detective skills to use in new and daring ways
read more