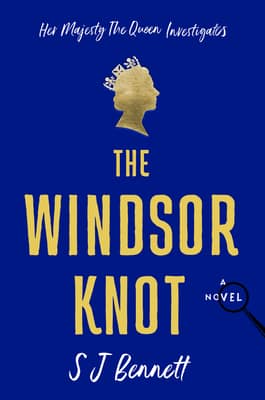 After hosting a 'dine and sleep' soirée at Windsor Castle in the spring of 2016, Queen Elizabeth wakes up to the distressing news that a guest named Maksim Brodsky was found dead in his room. Brodsky was a handsome young Russian pianist who played for the gathering, after which he danced with the ladies, including the Queen herself.
Even worse, Brodsky is found in skimpy underwear with a rope around his neck, and at first glance, his death appears to be due to autoerotic asphyxiation. It soon becomes clear, however, that Brodsky was murdered, and the scene staged.
Since the pianist was killed at Windsor Castle—in the presence of the Royal Family, Russian diplomats, and other high profile guests—both the Metropolitan Police and MI5 investigate. After learning that Brodsky had criticized Russian President Putin, the authorities conclude that members of the Queen's staff were Russian sleeper agents put in place to murder Brodsky. Two of the Queen's employees are discovered to have tenuous connections to Russia, and they're furloughed while the Met and MI5 make further inquiries.
Queen Elizabeth's Private Secretary, Sir Simon Holcraft, an old-school gentleman, tries to shield the Queen from the worst of the news. However, Elizabeth is too shrewd to be fobbed off with half a story, and insists on knowing everything. Unknown to Holcraft, Elizabeth has been secretly solving mysteries since she was a teenager.
The Queen refuses to believe she employed sleeper agents, and decides to launch her own investigation. Since Elizabeth can't run around the country interviewing people herself, she enlists the help of her Assistant Private Secretary Rozie Oshodi—an attractive, ex-army, Anglo-Nigerian woman who's clever, discreet, and good at data-mining social media.
When the Queen unearths clues to the crime, she subtly conveys them to Ravi Singh, Commissioner of the Metropolitan Police and Gavin Humphreys, Director General of MI5, who think they made the discoveries themselves.
It turns out that all manner of chicanery occurred at Windsor Castle on the night of the gala, including sexual liaisons and people having secret meetings. As it happens, Brodsky's death is connected to the murder of two other people in England, and the Queen has to put all the pieces together to solve the crime.
In addition to sleuthing, Queen Elizabeth performs her royal duties. She celebrates the anniversary of the postal service; gives out awards; hosts the Obamas; welcomes the Japanese prime minister and his wife; attends public festivities for her 90th birthday; etc.
Elizabeth also has a rich private life. She visits with her children and their families; spends time with her husband Prince Philip; walks her dogs; rides her horses; attends The Royal Windsor Horse Show Pageant; has a birthday celebration with her loved ones; and so on.
Additional characters include a jealous businessman and his gorgeous ballerina wife; an Englishwoman with a doctorate in Russian studies; a celebrated female architect; Brodsky's international roommates; Rozie's relatives in England and Nigeria; staff who serve the Royal Family; and more.
Queen Elizabeth is a lovely warm woman who's concerned for others and determined to uphold the dignity of the monarchy; Prince Philip is a witty quipster who's fun to be around; and Rozie is a tough lady who can defend herself when necessary. I look forward to seeing more of them in future books in the series.
Thanks to Netgalley,  S.J. Bennett, and William Morrow Publishers for a copy of the book.
The septuagenarians are back and on the hunt for diamonds and a murderer
read more