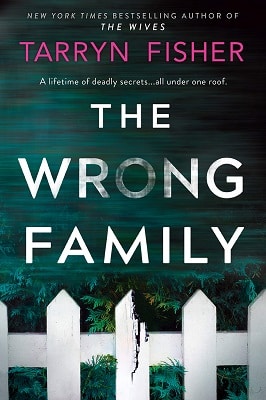 reviewed by Carolyn Scott
Winnie Crouch has worked hard to build her dream of the perfect family: a stable marriage to a good-looking husband, a young teenage son and the perfect house in a prestigious lakeside suburb in Seattle. But lately life has not been so perfect; she and her husband Nigel have been arguing a lot and she's worried that the grievous mistake she made fourteen years ago is the cause of all their problems.
Juno, an elderly woman, also once had a family, a home and a career as a therapist but lost them all after she made a stupid mistake. Now she's homeless and ill, living in the park opposite the Crouch's house. Finding somewhere more sheltered to spend the winter, she finds herself in a position to closely observe the lives of the Crouch family and hear their arguments. She believes she's worked out what Winnie's big secret is and thinks she has to be the one to do something about it.
There are several plot lines in this novel that all come together in an action packed crescendo. Narrated alternately by Winnie and Juno, it's easy to see that both women are complex, self-centred and ultimately flawed and neither can see the harm they are causing others. Winnie's son, kept by her to a strict vegan and sugar-free diet, craves meat and sugary foods and her husband is seething with resentment at her need to always be in control. Winnie's relaxed attitude to her twin brother Dakota and his crumbling marriage, behaviour and mental health infuriates him, especially when Winnie lets him move in with them after his wife throws him out.  Juno's homelessness, chronic illness and lack of health care make her long to atone for the grave error of judgment she made in the past and sees that putting to rights Winnie mistake might just let her do that.
 Several themes are interwoven into this novel. Family dynamics is the key to it all, with mother-child relationships central along with the disparity of the lives led by Winnie and Juno. Two very similar women, with similar careers and family and each with a major mistake in their past. But one has hidden it and leads a life of privilege while the other has paid the price and lives in poverty and pain, without the health care she can't afford. Combined, it all makes for a very compelling read as the plot unfolds with many surprising revelations.
Often creepy and dark, this is a psychological thriller that will drag you in to the lives of some very dysfunctional people.
With thanks to Harlequin Australia and NetGalley for a copy to read. Publication 6th January 2021.
More Pscychological Thrillers
Why would you pretend your life is a dream when you're living a nightmare?
read more