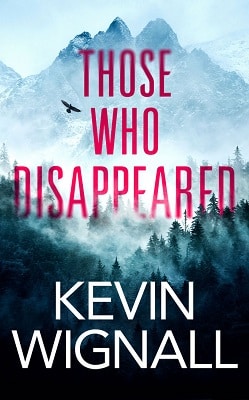 A glacier, an avalanche, and an artist's search for truth all come together in this wonderfully conceived mystery by Kevin Wignall—an author I never read before and who has done a great job of exploring one man's journey to find the truth about his father and how he died.
After 32 years, the body of Charlie Treherne is uncovered as the result of an avalanche on a Swiss glacier. Luckily, the body had been well preserved, and his passport and diary wrapped in plastic so the coroner was able to at least identify the body.
Famous modern artist, Foster Treherne, receives an unexpected visit from a State Department official informing him of the discovery of his father, Charlie. This sets up the dramatic plot of one man's attempt to learn the truth about his father's death and very existence (as Charlie's death had occurred before Foster was born). To complicate matters, his mother committed suicide when he was only one year old.
Raised by a nanny, and shipped off to boarding schools, Foster had no photos of his father, and really knew nothing of the man or his life. But despite achieving worldwide artistic fame, Foster has always had a hole in his psyche due to tragic circumstances surrounding the death of his parents, as well as his grandparents rather hands-off and uncaring interest in his upbringing.
As so often happens, one little bit of information leads to another, and eventually Foster is convinced that his father's death was not a mere accidental hiking death, but rather a murder. The discovery of a group photo now propels Foster on a journey of discovery and enlightenment. Who really were his mother and father? How did his father really die? And if it was not an innocent hiking accident who is to blame?
That Wignall is able to cover all of this in a short 232 page novel tells us about his ability as a writer. It is an action mystery, that really has little physical action. It is a detective story without a detective, and it is one man's surprising desire to learn about his father. Foster is able to discover the identity of the people in the photo, but their memories of the day his father died are either incomplete or give the indications of a conspiracy. But was there a killer or was it truly an accident?
This is a short, fast read. Yet it is a book that moves action around at a reasonable pace and teaches us that our past is not always what we think it is, and that our parents are not always who we believe they were. Fascinating, and a very good read with no violence, sex, or graphic sequences.
Thanks to NetGalley, along with Amazon Publishing UK/Thomas & Mercer for this free advance copy in return for an honest review.
He uncovers clues that could bring him closer to the daughter he lost
read more