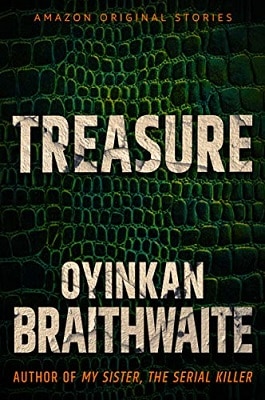 In the final piece from the original HUSH collection, Oyinkan Braithwaite offers readers a unique story that speaks more to the lure of social media than anything else. Quick and with her native Nigerian tilt, Braithwaite keeps reader on their toes until the final reveal. Recommended to those who enjoy something a little unique, particularly readers who have read the other stories in this collection.
Treasure enjoys the camera and it would seem the feeling is mutual. Her choice of fashion and the means by which she dolls herself up is perfect for the Instagram account she's created. The many followers of her account agree, based on the number of likes Treasure gets with each day's posting.
One follower in particular, @Sho4Sure, has been following Treasure for as long as he can remember. He's fixated on everything she says and is happy to see that she's gone so far as to respond to his comments. He makes sure everyone knows that this is the woman he'll marry, as soon as he can ask for her hand.
When Treasure lets slip her location in a post, @Sho4Sure feels it's a sign and treks over there with his social media companion. Who knew she was so close? When Treasure and her greatest fan come face to face, it's like nothing either of them could have imagined. However, this is only one of many surprises that await them both in this story, where, like social media, the truth is not always as it appears.
This was my first piece by Oyinkan Braithwaite, and certainly different from much that I have read of late. There is certainly an African feel to things, both in the description and the dialogue, though this uniqueness is refreshing and quite alluring. It adds something to the story that left me wanting more.
Treasure appears to be the typical social media starlet, dreaming big and using Instagram as her stage. She does well to present herself to those around her, though the truth about it differs greatly, as the reader discovers throughout the piece. A Nigerian #queen, she basks in the attention she gets, hoping her fan base will increase the more her presence is felt.
Braithwaite appears almost to be offering a tale of warning in this piece, providing the reader with a set of cautions about the use of social media. Both Treasure and @Sho4Sure present opposing sides of the same coin, the star and the fan, both wrapped up in their roles and yet deceived by the other. This becomes apparent in the latter portion of the story, as the truth comes out and both are forced to admit something.
With short chapters and a plot that seems focused on a single event, Braithwaite quickly develops the thread of the tale and leads the writer as it all plays out. Perhaps the least complex of all the HUSH stories, but still an enjoyable piece that has me debating about reaching for the author's full-length novel. Likely to be one that divides readers, though most decent writing does that.
Kudos, Madam Braithwaite, for this intriguing piece that kept me wondering throughout. I am eager to see what others thought and where your next writing project might take you.
Their one purpose: to bring down the ruthless and elusive serial killer
read more