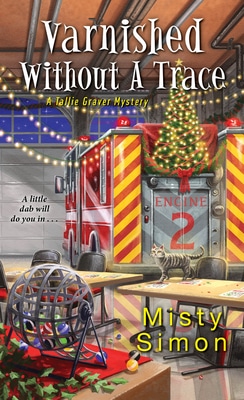 Varnished Without A Trace
reviewed by Leslie Chatman
In Misty Simon's Varnished Without A Trace, cleaning lady Tallie Graver is looking forward to spending a quiet Christmas holiday with her boyfriend Max. All play and no work, is just what she needs. But murder and mayhem are never too far behind…
Misty Simon brings back likeable ex-socialite and amateur sleuth, Tallulah "Tallie" Graver, in what may be the most entertaining book of the Tallie Graver Mystery series. 
It's Christmas time and Tallie, the proprietor of a small-town cleaning business, is trying to keep her focus on the traditional holiday eve bingo game. She got stuck sitting next to her ill-tempered Aunt Ronda who's engaged in a game of extreme bingo and is losing badly. 
After a tough night of play, Ronda storms out of the event, bound for home to suffer an embarrassing loss far away from her perceived unworthy competitors. When Tallie chases after Ronda to return the purse she left behind in her haste to leave, she stumbles upon an unexpected sight – Ronda, lying dead on the ground from a blow to the head with a can of varnish.
When the lead suspect, Tallie's Uncle Hoagie, goes missing, overworked Police Chief Burton is hard pressed to divert his attention from the fires being set all around town to solve, yet another, murder case. He leans on Tallie to help with the murder investigation – something he has cautioned her against in the past. At the same time, the fire chief, Tallie's Uncle Sherman, engages her to help him find the person starting all the fires before their efforts escalate. The plot thickens when an embalmed Hoagie doppelgänger is discovered near his hardware store. 
Throughout a story revealing hidden secrets and the power of family, friends, and community, Tallie is challenged by an ever-growing list of people with motive, as she works to unravel the clues to solve these cases.  
Family and relationships are central in the fifth installment in this thoroughly enjoyable series. While Tallie is looking forward to completing renovations of her apartment above the family funeral parlor, and spending the first Christmas together with Max, she is drawn into the dynamics of her family deeper than ever before. 
Tallie is a determined individual who walks a very tight rope of living a life she desires and helping out with the family business she wants nothing to do with. In the past, her relationship with her family has been a bit tense over this decision. The same can be said about her relationship with Police Chief Burton. Could this mystery, a very personal one, be changing these relationships for good? Perhaps Burton has learned by now that telling Tallie not to get involved in solving murder cases is futile, or perhaps their relationship is evolving into one of mutual respect and need? Future series installments could reveal more about this, but it is safe to say that Tallie is really growing as a person and her relationships with others are deepening. All of this endears her even more to readers.
This has been the most revealing book of the series – while Tallie discovers an intensely shocking secret about members of her own family, she also learns a bit more about Burton. These revelations bring some much needed depth and dimension to previously flat supporting characters. 
Varnished Without A Trace is a very delightful cozy read with intriguing family drama, a nice amount of romance, and fun humor. Simon has a true talent for creating amusing, light-hearted cozies, chock-full of quirky characters, with satisfying reveals. 
As the clues begin to pile up, readers will be gratified by the many surprises in this installment. I like being drawn into the strange happenings in Mechanicsburg and I did not want this book to end. Tallie Graver fans will really enjoy this story and will hope for more of the same from future series offerings.