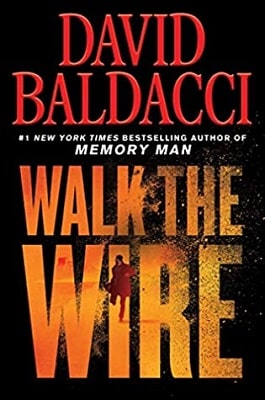 reviewed by Barbara Saffer
In this 6th book in the 'Memory Man' series, Amos Decker's investigation of a bizarre murder in North Dakota unveils diabolical wrongdoing. The book works well as a standalone.
Amos Decker, 6'5″ tall and 300 pounds, was a professional football player until a massive hit ended his career and left him with hyperthymesia and synesthesia. The hyperthymesia gives Decker a permanent detailed memory of everything he's ever seen or experienced—like a combination photo album/video in his head. And the synesthesia makes Decker see things in false colors—like death scenes glowing blue. Unfortunately, Decker's hyperthymesia doesn't allow him to dim the memories of his dead wife and child, who were murdered a few years ago.
On the upside, Decker's phenomenal memory helped him in his career as a police detective, and he now works for the FBI—on a team that investigates crimes. Decker's FBI partner is Alex Jamison, a woman who understands his problems and has his back.
As the story opens, a wildlife tracker in London, North Dakota finds the body of a woman with her face peeled back, brain removed, and torso dissected. When the FBI gets wind of the discovery, Decker and Jamison are sent to investigate. The FBI agents work with local police detective Joe Kelly, who tells them the victim was a comparative newcomer to London named Irene Cramer. Cramer had an odd combination of professions: she taught school for an Anabaptist religious sect called The Brothers and provided escort services for oil field workers.
North Dakota's oil industry exploded when fracking was developed, and at least half London's population of 15,000 are oil field employees. The boom town environment resulted in increased drug use, theft, drinking, bar fights, prostitution, etc.—but Decker's instincts tell him Cramer's murder wasn't connected to sex work.
In addition to the Anabaptist compound and the oil fields, London also boasts the George S. Douglas Defense Complex, an early warning Air Force station that scans the skies for incoming missiles. So there's plenty going on in London.
To begin their investigation, Decker, Jamison, and Kelly speak to Cramer's landlady, examine Cramer's apartment, visit The Brothers Compound, inspect a hotel room used by hookers, speak to townspeople, visit the Air Force Station, and so on. Decker and Jamison quickly get the feeling something is wonky in London. For one thing, the Air Force station claims a perfect safety record, but there are ambulances stationed all around.
The detectives get their first lead when Decker reads Cramer's autopsy report, notices something odd, and rushes to the funeral home to examine her body. This starts a cascade of suicides, murders, disappearances, and kidnappings – and Decker himself is targeted by an ace gunman. Luckily CIA assassin Will Robie (from another Baldacci series) is on hand to save the day. Robie's partner Jessica Reel and their CIA handler, the Blue Man, also show up – indicating that the treachery in London goes WAY beyond Irene Cramer's homicide.
It turns out that sinister schemes abound in London, and there's so much going on that Decker and Jamison struggle to put the pieces together. They succeed eventually, but not before numerous gun fights and assassination attempts leave bodies scattered across the landscape.
A variety of characters add interest to the story, including Decker's brother-in-law Stan, who happens to be working in London's oil fields; a coroner who fudges his autopsies; two rival multi-millionaires who, together, own almost everything in town; a beautiful woman who turns men's heads; a feisty nonagenarian who harbors secrets; and more.
Baldacci's stories often feature complex conspiracies, though it's hard to believe one town could harbor this many diverse cabals. That said, this is an engaging thriller with interesting people, plenty of action, and characters from two of Baldacci's series. Maybe it's the beginning of a trend.
Their one purpose: to bring down the ruthless and elusive serial killer
read more