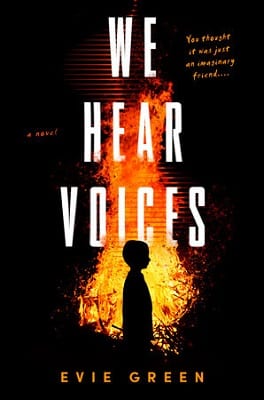 reviewed by Sheena Alizadeh
A creepy debut novel with an assortment of genres such as horror, sci-fi, and thriller. We Hear Voices takes place in an apocalyptic setting of Earth facing the brink of collapsing.
Technology takes over, with virtual reality and artificial intelligence prominent in this dystopian society. The answer to saving humanity is a new generation to be launched into space with the aim of building a new life elsewhere. But on top of the plan for colonizing the cosmos there's an untreatable pandemic going on that's similar to the flu, killing people all over the world. Sound familiar?
Billy recovers from the mysterious pandemic but with the recovery comes a new imaginary friend named Delfy. His mother, Rachel, thinks Delfy is a blessing and believes that this is how Billy will be able to deal with the traumatic experience he just went through. At first, what seems like harmless pranks by a six-year-old boy, quickly take a dark turn. Billy claims that Delfy is the cause of his bad actions, and is controlling him. Is it really Billy or is something far more sinister at play here?
Meanwhile, Billy's older sister, Nina, is training to become one of the pioneers to start over in space. Nina does her own investigation into what's happening with Billy, leading to more children in a similar position.
At first, it seems like the multiple plot lines are arbitrary and may be part of two entirely different books. However, these plot lines come together seamlessly, revealing a story far more interconnected than expected. The characters are well developed and strong, as well as linked together in ways they may not even expect. The book also explores economic equality and the concept of corporations taking control of people's families, jobs, homes, and more.
We Hear Voices kept me up well into the night, quickly flipping the pages in anticipation of what Billy will do next. Everything comes together full circle with a surprising yet satisfactory ending. I definitely will be on the lookout for Evie Green's future novels!
Thank you so much to Netgalley and Berkley Publishing for providing an ARC in exchange for review. The novel is set to release on December 1st, 2020.
Traveling through different realities, shows danger of living multiple lives
read more