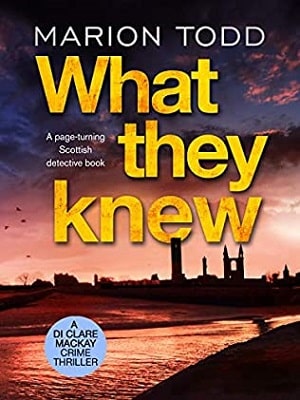 Have you ever thought about visiting Scotland, exploring the towns, wandering the countryside, maybe catching a glimpse of famous golf courses? Reading What They Knew by Marion Todd may be the next best thing. It features Clare MacKay, Detective Chief Inspector, who moved to St. Andrews from Glasgow and oversees a small precinct there. This is the fourth book in the series, and throughout them all Todd creates an excellent sense of place, populated by well crafted, believable characters.
In addition to a trip to Scotland from the comfort of your home, you get a well-crafted police procedural and the opportunity to ride along with Clare and her Detective Sergeant, Chris, as they pursue leads and track down suspects. You also get the opportunity to realize the "twist" at the same time Clare does. But if you don't see it coming, no worries, the writing is so smooth all will be revealed in almost no time.
In this book, Clare and her team encounter a death that initially seems like suicide. Upon further examination, the coroner presumes murder and the investigation begins. Before the team can proceed too far, another, similar death occurs and Clare begins to suspect a connection. When a third death happens, Clare's thoughts turn to more than a connection, but the belief that they are dealing with a serial killer.
The ride along has the reader accompanying Clare or a member of the team as they visit shops, a pub, a care home, and a local hairdresser; among other places. Each trip through the town gives a better sense of what it's like in terms of appearance, people, and overall atmosphere. You might say reading this book is in part like having arrived at a new town, perhaps for an extended visit, and exploring the area or talking with the locals. Todd has written the descriptions with a clarity that allows the reader to feel as if they are there, without spending so much time on descriptions that it bogs down the rest of the book.
As Clare and her team investigate, there is just enough tension to propel the reader through the book without placing the characters in any unrealistic situations. Although it is fourth in a series, the murder and its investigation have no connection with earlier books so it can be read and enjoyed as a standalone. However, there are recurring characters and relationships between them that have grown across the series. If you enjoy following relationships as they develop while enjoying the mystery portion of the book, be prepared to find yourself seeking out the earlier books in the series so you can enjoy them from the beginning.
Central Park is buried under tons of snow; only it's not snow, it's cocaine
read more