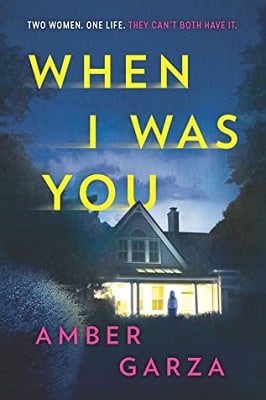 Kelly Medina is finding it hard to cope with her empty nest. Her 19-year-old son Aaron is off at college and her husband, Rafael, who teaches at a university two hours away, only comes home for weekends. Kelly tries to fill her time with volunteer work, seeing her friend Christine, going to the gym, shopping, and posting on social media—but she's lonely and depressed. Unhappy thoughts creep in. Jealousy of women with small children, and daydreams about the days when Aaron was little and needed her.
The proverbial match that lights up this incendiary situation comes in the form of a call from the office of Aaron's pediatrician, reminding Kelly that she has a well-baby appointment on Friday morning. Kelly laughingly replies that her son is nineteen, and the receptionist checks the records and realizes the appointment is for a different Kelly Medina, who has a baby.
For the sake of the review I'll refer to Aaron's mother as mature Kelly and the infant's mother as young Kelly.
Mature Kelly is curious about her namesake and trolls social media—Facebook, Instagram, Snapchat, etc.—to learn what she can about her. Finding nothing, mature Kelly decides to park outside the pediatrician's office on Friday morning, just to see what young Kelly looks like. One thing leads to another and mature Kelly manages to meet young Kelly and her baby boy, Sullivan. The women marvel at the fact they have the same name, exchange phone numbers, and arrange to get together.
Mature Kelly soon learns that little Sullivan's dad is out of the picture and young Kelly is almost destitute. Young Kelly and Sullivan live in a dank little cottage with almost no furniture. No crib, no highchair, and few baby supplies. Moreover, young Kelly has lost her mother and grandmother, and has no support system.
Mature Kelly, worried about little Sullivan's well-being, goes out and buys a crib, a highchair, onesies, washcloths, formula, and other things a baby needs. She also brings a tray of homemade burritos to young Kelly's house, and invites young Kelly to her home for a meal, wine, and a sleepover if young Kelly likes.
By this time, the reader is well aware that something is wrong with this situation. Mature Kelly's friend, Christine, is always calling to ask how she's doing; to arrange yoga dates; to invite mature Kelly out for lunch; to ask her over for a glass of wine; etc. And when mature Kelly says she's busy because she made a new friend, Christine doesn't seem to believe her.
Moreover, Rafael is also troubled about his wife. He phones to inquire about her credit card purchases of expensive baby supplies, and appears reluctant to accept his wife's explanation that she's helping a new acquaintance. There's some underlying tension between mature Kelly and Rafael, as if there's something they can't discuss.
As the story unfolds, mature Kelly intrudes on young Kelly's life more and more, becoming increasingly obsessive about 'keeping Sullivan safe.' At one point, mature Kelly's behavior tips over to the outrageous, and one wonders about her mental health.
The bottom line: I thought I knew where all this was going, then the twists started coming hard and fast. This is an excellent psychological thriller, clever and original.
More Psychological Thrillers