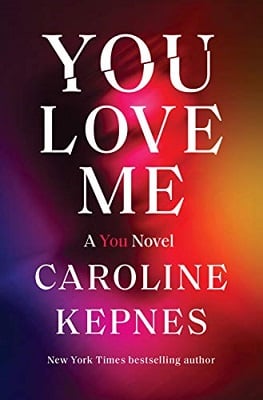 Joe Goldberg—the watchful eye in YOU (both the Netflix TV series and book) and Hidden Bodies (the book's sequel)—is back. He's the killer we are supposed to hate, but can't help but kind of love and root for.
Poor Joe couldn't make love work with Love, the woman he was seeing, and so has moved on to Seattle. As a book lover, his luck pays off when he finds himself living near a beautiful library. What's even more amazing is the sexy librarian, Mary Kay.
Mary Kay has a daughter. That's cool. But just when Joe thinks he finally found his true love, he learns certain not-to-be-mentioned-here news concerning Mary Kay. Don't worry, folks. Joe has a plan. He's got it all under control, and he will scheme and do what he needs to do to show Mary Kay that she is the woman for him.
There are so many things to love about this book, especially if you've read the previous entries. The story follows up on the last one, and not on the TV show. It'll be interesting what Netflix decides to do with season 3. Will it follow the formula of the book? Who knows after the cliffhanger we were given in the series, which was quite different.
Author Carolyn Kepnes shows obvious care towards the characters she has created, and it does not fail here. There are characters you love, characters you hate, and characters you shamefully hate to love.
The suspense is high, but given that the last book came out a few years ago, it takes a bit to find the rhythm of the first-person dialogue. There are also some scenes that are off-putting (repeatedly referring to part of a woman's anatomy as a lemonhead is kind of cringe-worthy). There's a lot going on at the end, but it is completely worth it as the story races to the conclusion. And it leaves the door open to book #4!
All in all, this is a fantastic and highly-anticipated continuation of Joe Goldberg. Kepnes clearly knows what she's doing in advancing the story. The ending is crazy, and may not live up to everyone's expectations, but YOU will be engrossed in all the twists. And if you are like me, you will wonder how the story will advance.
Thank you to Random House for an ARC in exchange for an honest review. I can't wait to see the next scenario Joe involves himself in.
Editor's Note: You Love Me was selected for our list of best and most anticipated thrillers of 2021.
More Psychological Thrillers